* Tribune…
With legislative leaders still working on the finer points of a plan to send money to public schools, their efforts risked being derailed amid ongoing rancor between Gov. Bruce Rauner and Mayor Rahm Emanuel as well as pressure from unions. […]

Even before the accord was announced, Emanuel poked Rauner over his decision to shed his new press staff just weeks after bringing them on amid a massive staff shakeup in the governor's office.

"I kind of think some guy that's talked about running on a 'turnaround agenda,' it's becoming quite apparent that it's a 'turnover agenda,'" Emanuel said, mocking the tagline Rauner had given to his pro-business wish list.
* Press release…
Today, as the Illinois House of Representatives considers revisions to Senate Bill 1, Illinois Federation of Teachers President Dan Montgomery released the following statement:

"We were happy to support Senate Bill 1 as originally passed. For the first time in a generation, it creates an opportunity to fund schools more equitably and adequately by considering regional circumstances and ensuring that no district loses a dollar. But as he did with the bipartisan budget, Governor Rauner vetoed the legislation and is holding our kids' education hostage to his political demands.

The Governor's priority is not fair and equitable funding for all of Illinois' students. This was clear in the 120 changes he made when he vetoed SB1, and it's clear now in his last-ditch effort to use our students as leverage for private school tax credits.

Taxpayer dollars should be invested in our public school classrooms, plain and simple. The Governor's proposal gives the wealthy another break while robbing our public schools of students and dollars.

We encourage lawmakers to reject this. Override Governor Rauner's veto and pass Senate Bill 1 as written. Vouchers should not be the price of progress."
I've asked the IFT if it is willing to allow schools to shut down over this beef with the tax credit proposal. I'll let you know what they say.
…Adding… From the IFT…
Of course we do not want schools to shut down. That was the Governor's desire when he completely rewrote SB1 in his AV. Legislators can simply override the veto. (And aside from what private school tax credits do to undermine public school funding, is now really the right budgetary time to do this?)
They can't "simply override the veto," but whatever.
* Meanwhile, the CEO of the state's second largest school district (Elgin) was bad-mouthing the compromise plan and demanding an override of SB1 on Twitter yesterday, so I asked him some questions…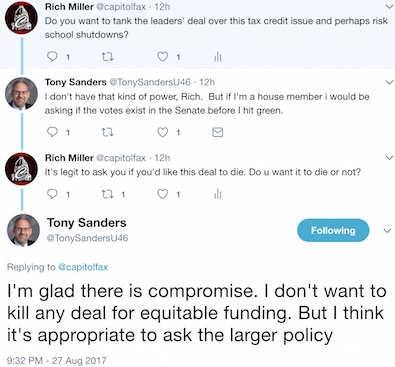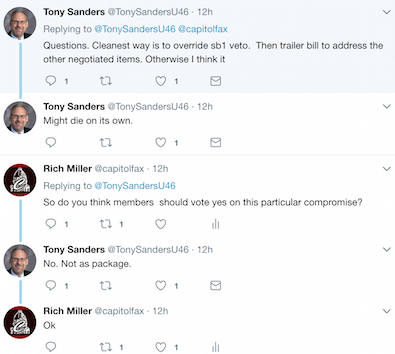 That's a lot of dancing.
…Adding… Never bet against the leaders when they're all pulling in the same direction. If that is truly the case here, then everyone should probably calm down a bit…
After 30 min meeting with Spkr Madigan, GOP leaders say #schoolfunding bill is a go #twill pic.twitter.com/PSSolvD8GU

— Mary Ann Ahern (@MaryAnnAhernNBC) August 28, 2017
…Adding More… This is the standard partisan split on structured roll calls. It's based on the percentage each party has in the chamber. The object is to meet these minimum targets…
One Insider Prediction: 41 Dem votes, 30 GOP votes … if so then historic school funding will pass #twill pic.twitter.com/Caf7kLlBd5

— Mary Ann Ahern (@MaryAnnAhernNBC) August 28, 2017
* Related…
* What's going on with Illinois school funding? Here's a Q and A: What's with the $75 million in school vouchers? First, they're not vouchers, which would be public money or tax credits provided directly to families paying tuition. What's been proposed are tax credits for anyone who donates to organizations that would create scholarship funds for low- and mid-income students attending private schools. At least for the next five years — when the measure will sunset — donors will get a credit for 75 cents on every dollar they give. Though it's not yet clear how any of that will happen.

* Legislative Leaders Inch Toward School Funding Deal: "It's time for everyone, if they have minor objections, look at the goal. Who gets hurt? No one gets hurt, everyone succeeds under this. Every student in Illinois is going to be a beneficiary of what we have to come to a conclusion in," Durkin said.

* GOP leaders: School funding reform plan still on track

* IL Lawmakers Working To Hammer Out Details On School Funding

* Rep. David McSweeney Says The New School Funding Plan May Cause More Harm Than Good
68 Comments











































































































































































































Sorry, comments for this post are now closed.