* From the CTU…
"Tonight's vote for a voucher scheme for the state of Illinois is disappointing, and the worst assault on public education since mayoral control of schools was granted in 1995. We are now firmly in line with the President Donald Trump and Betsy DeVos privatization agenda.

"We have a new funding formula and more revenue for our schools. These are substantial achievements, despite Gov. Bruce Rauner's incompetence and Mayor Rahm Emanuel's impotent ability to provide direction from City Hall. Unfortunately, Illinois legislators have voted to 'reform' the worst school funding system in the country with a ticking time bomb of a voucher scheme, and the Illinois Democratic Party has crossed a line which no spin or talk of 'compromise' can ever erase."
* From the Chicago Principals and Administrators Association…
Emails sent to principals across the district have been forwarded to the Chicago Principals and Administrators Association (CPAA). These emails indicate CPS officials are coercing principals into lobbying for Springfield's voucher legislation during work hours. District officials frame their instruction to principals as being motivated by a need for funding in general, but no such lobbying instructions were sent for any of the previous voucher-free versions of school funding legislation. One of the district emails includes a section that states, "there will be a Google Sheet for you to indicate the result of your calls." Such sheets are often used in CPS as accountability measures to ensure principals turn in required documentation. Emails from two different network chiefs contain the coercive sentence, "These calls need to happen today or tomorrow." This indicates that lobbying for the passage of the voucher bill is required rather than optional.

The Chicago Principals and Administrators Association condemns CPS's flagrantly unconstitutional action. CPS's attempt at coerced employee political mobilization makes principals feel pressured to support the pro-voucher positions of CPS officials and the mayor who appointed them.
* While the e-mails do say that, they also say stuff like this…
Every Principal that was in attendance on Friday, August 25th morning heard Chip make the request of them to reach out to their state officials. Principals may also want to reach out to their school families urging them to reach out to their officials
Emphasis added.
* And from the former leader of Raise Your Hand who moved to the suburbs when her kid was high school age…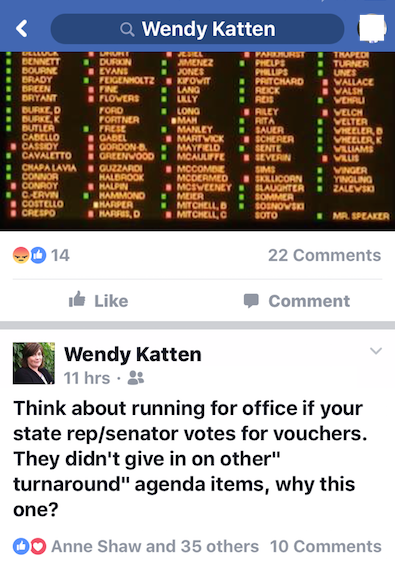 31 Comments




























































































Sorry, comments for this post are now closed.