* The adults need to intervene at the Sun-Times. Check out this lede…
Tapped-out Chicago property owners would face yet another tax hit for teacher pensions — but their aldermen would escape another difficult vote — under a historic new statewide school funding deal now headed to Gov. Bruce Rauner's desk.
Tapped-out? Right. Chicagoans should ask their suburban and Downstate friends about their property tax bills.
* The screaming front page…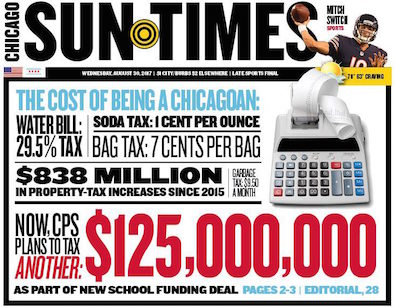 * Thankfully, the editorial board put things into perspective…
But it is not unexpected news. Mayor Rahm Emanuel had hinted all along that another tax hike for the city's public schools was likely, once he finished squeezing Springfield for more school money. And, regrettably, the hike is largely necessary. It is the price Chicago must pay for decades of past financial mismanagement. It is the price the city must pay for its future.

As unwelcome as higher taxes are, worse yet for Chicago and its public schools has been the damage done by constant borrowing and allowing unpaid pension obligations to pile up. A city that borrows to pay basic bills — spending money on interest payments instead of hiring cops or teachers — is a city living on borrowed time.
Mayor Daley and, for his first term Rahm Emanuel, allowed Chicagoans to live in a fantasy world where they didn't have to pay for the services they received. And they were enabled by the city's media and, particularly, its editorial boards which endorsed those guys at every turn.
55 Comments




































































































































































Sorry, comments for this post are now closed.