* The Guardian…
Rightwing activists across the US have launched a nationwide campaign to undermine progressive politicians by depriving them of a major source of support and funding – public sector unions.

A network of conservative thinktanks with outposts in all 50 states has embarked on a "breakthrough" campaign designed to strike a "mortal blow" against the American left. The aim is to "defund and defang" unions representing government employees as the first step towards ensuring the permanent collapse of progressive politics. […]

The new assault is being spearheaded by the State Policy Network (SPN), an alliance of 66 state-based thinktanks, or "ideas factories" as it calls them, with a combined annual budget of $80m. As suggested by its slogan – "State solutions. National impact" – the group outlines an aim to construct a rightwing hegemony throughout the US, working from the bottom up.

To do that, it first has to sweep aside the public sector unions and their historic ties to Democratic and progressive politicians. In a 10-page fundraising letter, part of a set of documents obtained by the Center for Media and Democracy and published by the Guardian today for the first time, SPN sets out its mission in frank language that does not disguise its partisan ambitions. […]

The target of such union-bashing, she openly admits, is to "defund and defang one of our freedom movement's most powerful opponents, the government unions". The long-term objective is to "deal a major blow to the left's ability to control government at the state and national levels. I'm talking about permanently depriving the left from access to millions of dollars in dues extracted from unwilling union members every election cycle" (emphasis in original).

SPN will be discussing its anti-union and anti-left agenda on Wednesday at its annual meeting in San Antonio, Texas. Its morning session will look at how "labor reform" can be pursued with renewed vigor under the Trump administration.
A few points.
1) The Illinois Policy Institute is part of the State Policy Network. The Heartland Institute and the Institute for Truth in Accounting are also part of the network.
2) The group's fundraising letter includes several references to Gov. Rauner.
3) Here are photos of the front and back of what I'm told are a hotel key card used at the Texas conference…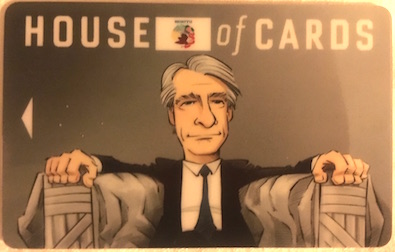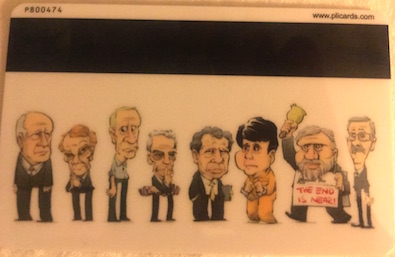 The front of that card is a depiction of the Institute's John Tillman.
…Adding… I really figured some of y'all would catch on to it, but since nobody has I'll do it for you. Do you not notice the similarity between the depiction of Tillman on that key card and the Lincoln Memorial in DC?
72 Comments























































































































































































































Sorry, comments for this post are now closed.