[Bumped up from Friday to Monday and comments opened.]
* A friend of mine is participating in one of those "ecumenical" petition drives in the suburbs where volunteers circulate for any candidate who submits petitions. He sent me this tonight…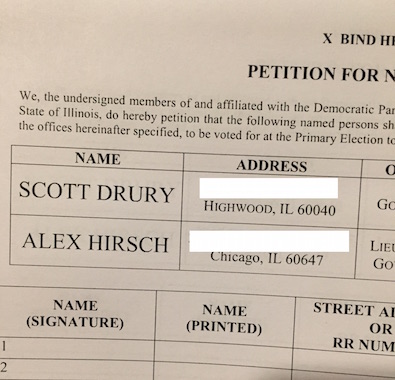 I have received no press release from the Drury campaign announcing his running mate and nothing is posted on his Twitter page. I've sent the campaign an e-mail asking for more info and will let you know what they say.
* According to Alex Hirsch's LinkedIn page, he was Rep. Drury's 2016 campaign manager. Hirsch was paid $10,000 by Drury's campaign last year. He also ran a consulting company "with a focus on the cannabis industry" and was an Eagle Scout.
I'll open comments on Monday.
*** UPDATE 1 ***  From the Drury campaign…
Rich:

We intended to make the announcement last week, but felt it was inappropriate to get in the way of the self-destruction of other campaigns. We, instead, focused on getting petition signatures - one of the only gubernatorial campaigns organized enough to do so. We will provide more in the coming days.

–Jesse Brooks
*** UPDATE 2 *** Official announcement…
IN SELECTING RUNNING-MATE, DRURY ESCHEWS INSIDERS

HIGHLAND PARK, ILLINOIS – Scott Drury, Democratic candidate for governor, has named Alex Hirsch as his pick for lieutenant governor. An Illinois native, millennial and supporter of Bernie Sanders in the 2016 presidential primary, Hirsch has been a long-time, trusted advisor to Drury, both formally and informally. Hirsch shares Drury's vision of an Illinois that puts the public's interest ahead of self-interest and whose government is defined by trust, not corruption. Hirsch knows that unless the Democratic Party in Illinois stops taking advantage of its base and using its most loyal supporters as pawns for political gain, it is in serious jeopardy of losing younger voters and moving towards extinction. Hirsch is committed to reducing Illinois' debt; balancing its budget without the major increase being proposed by the other Democratic candidates; and ensuring that Illinois' public schools are properly funded, its public universities are more affordable and its natural resources are protected.

According to Drury's campaign, it was important to find a trustworthy running-mate with political courage – someone not scared to do what's right and who is not tied to the Democratic Machine.

"Alex is a welcome addition to our campaign," said Drury. "Beyond his thoughtfulness and intelligence, Alex is an independent thinker with common sense, traits sorely missing in Illinois politics. Moreover, Alex is prepared to wage the epic battle needed to return Illinois government to its rightful owners – the people of our great state."

"I am excited to join the only campaign with a proven commitment to ending the failed status quo in Illinois," said Hirsch. "For too long, our state has been associated with doom and gloom. We are going to rebuild Illinois into a state people are proud of and people can trust."
33 Comments


































































































Sorry, comments for this post are now closed.