* Press release…
About a hundred volunteers drawing from organized labor, community organizations, and local residents turned out for a major petition drive on Saturday at the IATSE Union Hall on Northwest Highway in Chicago's 41st Ward and collected approximately twice the requisite number of signatures needed, squarely placing Merry Marwig's name on the ballot in her rematch against Rauner-ally Mike McAuliffe.

"I am grateful for the support of the working men and women who came out today to put my name on the ballot in my rematch against Rauner-backed Mike McAuliffe," said Marwig. "Since the last election, I have continued to walk door to door and talk to residents about McAuliffe's atrocious voting history and the thirst for change is greater now in my community than ever before."

Since the last election, 20+ year Republican incumbent Mike McAuliffe has been keeping up his end of the bargain in his pact with failed Governor Bruce Rauner. After taking millions of dollars from Rauner-allies, McAuliffe has spent the last two years carrying the water for Rauner, Inc. Voting against legislation to protect a woman's right to choose, driving the state further into debt while also slashing services for veterans and senior citizens, as well as voting to increase class sizes to more than 40 children per classroom in local schools like Ebinger Elementary. In addition to acting as an accomplice to Rauner's anti-middle class agenda, ****McAuliffe did not even bother to vote on the bi-partisan budget plan that recently passed, ending the years long budget stalemate.***

"Despite where you stand on the issues, everybody I've talked to since that vote is furious that McAuliffe didn't even bother to take a vote on what should have been the most important bill of his career," said Marwig. "He is collecting his paycheck and he'll have his pension, but when people find out that he cannot even bother to cast a vote they ask, 'why is he even there?'".

McAuliffe has not issued a statement on his dereliction of duty and has not responded to constituents who have called his office looking for a response. After Saturday's successful petition drive placing Marwig's name on the ballot for the upcoming election, neighborhood residents are eager to hear if a new election will force McAuliffe to explain his actions over the past two years.
Marwig lost the 2016 race by about 5,600 votes, 56-44, in a high-dollar race that saw the incumbent going on Chicago network TV in August. But, supporters of the candidate said two years ago that Marwig had agreed to run twice, figuring she'd do better the second time around. We'll see.
* Meanwhile, Chicago Public Schools recently sent out a letter praising the incumbent Republican…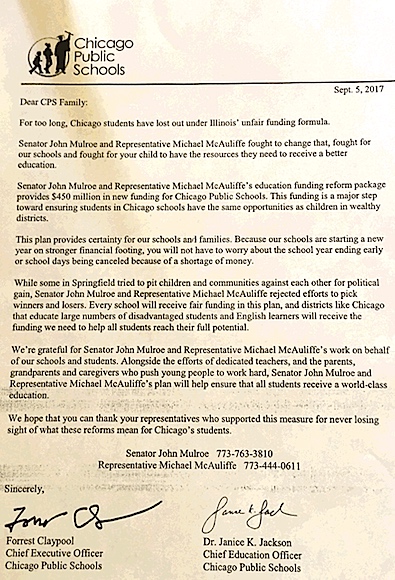 17 Comments


















































Sorry, comments for this post are now closed.