* SJ-R…
The state collected $300.5 million in tax revenues from 26,873 [video gambling] machines for the 12-month period ending June 30 as terminal numbers have grown each year since gambling began with 61 machines statewide in September 2012, according to an annual wagering report from the Illinois Commission on Government Forecasting and Accountability. The figure topped 27,000 by the end of July and was projected to hit 28,000 by mid-2018. […]

The state averaged 249 new terminals a month in the latest fiscal year, compared with 263 per month in the previous year and an average of 838 a month in the first two years of legalized gaming. Noggle said growth has been spread across the state. Video gambling remains banned in Cook County and Chicago.

State revenue from video gaming totaled $255.2 million from 23,891 terminals the prior fiscal year. Local government revenue from gambling terminals increased to $60.1 million from $51 million the year before.
* From COGFA's report…
In FY 2017, the State's share of tax revenues from wagering in Illinois reached $1.310 billion, a 7.9% increase from FY 2016 levels. The continued growth in video gaming tax revenues paid into the Capital Projects Fund ($44 million increase in FY 2017 to $296 million) and the increase ($58 million) in lottery transfers was more than enough to offset the $7 million loss in riverboat gaming transfers… Horse racing related State revenues continued its downward trend generating only $6 million.

Lottery transfers (and other State‐related lottery revenues) comprised 56.3% of total gaming revenues in FY 2017, whereas riverboat transfers comprised 20.6%, and horse racing comprised 0.5%. Video gaming's growth in Illinois' gaming market continued in FY 2017, comprising 22.6% of these gaming revenues in FY 2017, significantly up from its FY 2014 value of 9.1%.

Statewide adjusted gross receipts (AGR) for Illinois riverboats in FY 2017 were down 1.6% from FY 2016 levels, while admissions declined 5.8%. Modest increases in AGR at the casinos in Aurora and Des Plaines were offset by AGR declines at the other eight Illinois casinos. State revenues generated from riverboat gambling totaled $393.0 million in FY 2017, which was a 1.9% decline from FY 2016 levels. Increased competition from video gaming continues to be a major contributing factor for these declines.

Before the addition of Des Plaines, in FY 2011, Illinois had the lowest amount of gaming revenue (in terms of AGR) of the casino‐operating states in the Midwest. The addition of the casino in Des Plaines allowed Illinois to rise ahead of Iowa between FY 2012 and FY 2015. But five consecutive years of declining revenues has Illinois ($1.406 billion in FY 2017) again trailing Iowa ($1.453 billion), in addition to Missouri ($1.719 billion) and Indiana ($2.130 billion). […]

Illinois' total horse racing handle amount decreased from $593 million in CY 2015 to $571 million in CY 2016, a decline of 3.9%. This decline occurred despite the fact that advance deposit wagering increased $22 million or 15.3% and on‐track wagering increased $2.7 million or 3.2%. These increases were offset by a $37.6 million decline in intertrack wagering and a $10.0 million decrease in off‐track wagering. The overall horse racing handle total in 2016 was 40.1% below levels from just ten years ago. […]

Illinois had the 12th largest lottery in the U.S. in FY 2016, based on total sales. The per capita average of lottery sales in Illinois was $223 which was 23rd out of the 45 lotteries in the U.S. Per capita sales were basically flat at $222 in FY 2017.
* And check out this chart…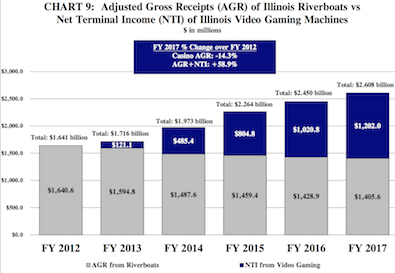 Gambling at video terminals is gonna surpass riverboats very soon. The boats would be wise to make bigger investments in that business.
30 Comments

























































































Sorry, comments for this post are now closed.