* Press release…
TUA in Mt. Prospect
exposes taxpayer traitor David Harris

Lake Arlington- After announcing the latest Taxpayer Traitor David Harris, taxpayers have visited his district to inform the voting public of his treachery.

Over the last 2 weeks TUA has hammered David Harris within his own district. First taxpayers showed up in force at Randhurst Village Mall, handing out wanted fliers for David Harris. Then taxpayers made a visit to Lake Arlington, handing out even more waned fliers and informing voters of all the lavish government pensions their tax dollars were funding. The reaction from the constituents was a mixture of shock and anger. One vocal constituent commented that David Harris should be behind bars, where he (David Harris) belongs.

Thereason the voters are outraged is because of the betrayal David Harris has committed. David Harris has betrayed the taxpayer by siding with Chicago machine boss Michael Madigan, and voting for a 32% increase on state personal income tax to pay for lavish gold plated government pensions.

David Harris is just 1 of 11 Taxpayer Traitors that sided with Chicago machine democrats in raising Illinois personal and corporate state income taxes. Since the traitors' treachery, TUA has been hard at work exposing each and every one of them. First TUA exposed Steven A. Andersson, who will no longer seek reelection, and is now focusing on David Harris. Once TUA is done with David Harris, TUA will unveil another taxpayer traitor. TUA will not rest until every taxpayer traitor is exposed, and out of office.

Below is a video of TUA representatives in District 53 exposing David Harris for the traitor he is!
Taxpayers United of America is Jim Tobin's group. Tobin believes Abraham Lincoln fought the Civil War over taxes and has long wanted to abolish the Illinois State Police. He also predicted in 2013 that Illinois would declare bankruptcy by 2015
* The flier…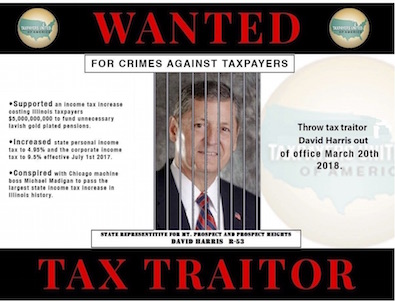 And click here if you want to watch the video.
13 Comments






































Sorry, comments for this post are now closed.