* From a letter to the Illinois State Board of Elections from Cook County Commissioner Richard Boykin's campaign treasurer…
I am writing to make the State Board of Elections aware of an issue with the Friends of Richard Boykin campaign required A-1 reports. On Monday, September 18th I, the campaign treasurer, became aware that A-1's I had filed (using NGP software) in August and early September were not showing up on the State Board of Elections website. After speaking with Tom (no last name was provided) he encouraged me to file the missing August and September A-1's. I did so on that day. I immediately began to investigate how this happened and have discovered that the problem was much larger than ever imagined.
* So, what happened? It seems to be a problem using NGP, which is used by Democrats…
Attached to this correspondence is each A-1 I filed with NPG that were never properly transmitted to the Board of Elections. Included on each A-1 is the signature date as well as the date and time stamp which was provided in my history log of all completed filing on NPG. You will see that each A-1 was indeed reported within the required time frame

What I believe has transpired and resulted in the confusion is the following. NPG has a 3 step process for filing quarterly reports and A-is. The first step is to create the form/report. Step 2 is to review the form and approve it for filing. This step requires the user to input a password. Step 3 allows the user to check a box that reads "mark as filed". Once the report is "marked as filed" it then is added to the "history" log under a compliance tab. I completed all of these steps; however, NPG explains that "sometimes" if the user hits the "mark as filed" too quickly after completing step 2 the transmission to the board is interrupted. However the NPG software still allows the user to check the "mark as filed" box and allows the file to become part of the "history" log.

I spent an hour on the phone with Monique, our auditor from the State Board of Elections, today. She was fantastic! I explained to her concern with the fines as it appears the campaign has made several violations; however, I assure you that at the time of completing these A-1's I 100% believed I had followed the proper procedure and that the reports were filed.
The campaign has re-filed four A-1's containing nine contributions.
I called NGP and left a voicemail with its communications person. I also DM'd him on Twitter a while ago. No response yet.
* Political tech wiz Scott Kennedy tweeted about this today…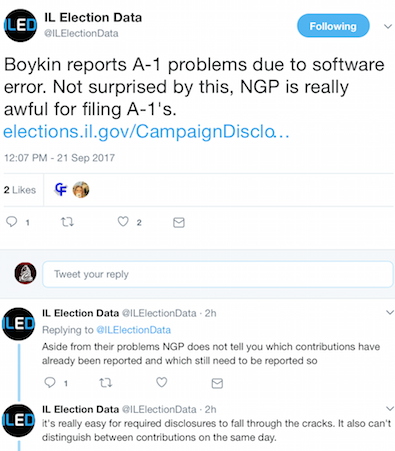 I didn't know this until I started calling around to people about their own problems using that software ("It's always been a pain in the a** for our people," said one), but our old pal Dan Johnson has started a competing business to NGP called Campaign Filer. According to the website, you can file Illinois campaign finance reports for free. But he only takes Democratic clients.
*** UPDATE 1 ***  From Lou Levine general manager of Fundraising & Compliance…
"This was a simple case of user error. We've been happy to work with the client to resolve any issues they have."
*** UPDATE 2 *** Another letter to the Illinois State Board of Elections from the campaign treasurer, who I spoke with earlier and who was kind of aghast at being pulled into this controversy and not meaning to suggest that it was all the company's fault…
September 21, 2017

State Board of Elections 2329 S. MacArthur Blvd Springfield, IL 62704

Re: Clarification

To Whom It May Concern:

On September 20, 2017, I submitted a letter of correspondence regarding errors in filing A­ l s. As a follow up to that letter, especially in light of the fact that is public information, I would like to clarify that my sole purpose in mentioning the specific name of the software we are using, NGP, was to explain what process I used to file the reports and how I fully believed they were filed in accordance with all rules. I intended my letter to show our commitment to following all election and contribution rules. Further, as of today, I used the system without error to file another A-1.

If you have any questions, please do not hesitate to contact me.
24 Comments







































































Sorry, comments for this post are now closed.