* From a reader…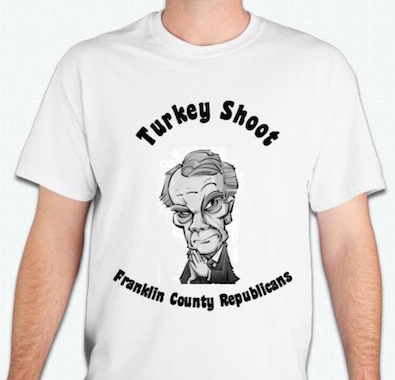 * I forwarded the pic to the ILGOP and asked for a response…
Hi Rich,

From what we can tell, the picture was posted to an event page for the Franklin County GOP. I spoke with the Franklin County Chairman, Jim Kerley, a minute ago and he says the Franklin County GOP has nothing to do with it. Jim has also asked the person responsible for posting the picture to take it down immediately. If you would like to follow up with Jim, his cell number is xxx-xxx-xxxx.

With that said, you can attribute the following quote to me.

"The Illinois Republican Party condemns violence in all forms and we ask anyone involved in creating these shirts to stop immediately."

Drew Collins
Illinois Republican Party
* So, I called Chairman Kerley. He said he didn't know about the t-shirt until the state party called him. "I don't have internet out here where I live," he said.
Kerley said he called the person responsible and found out the intention was to sell the t-shirt at the event.
"I told him to get it off and squash it," Kerley said.
"We're just trying to have a turkey shoot, but stuff like that is gonna hurt us more than it's gonna gain us."
The Facebook event page that formerly contained the image is here.
30 Comments

























































































Sorry, comments for this post are now closed.