* His name was floated weeks ago for secretary of state, so I suppose this isn't unexpected. But he quickly deleted his initial tweet…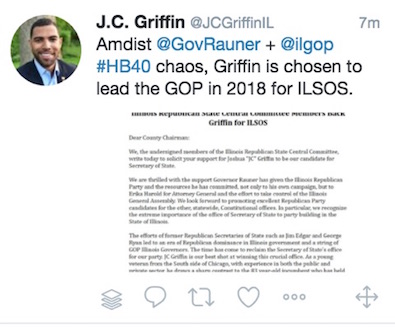 Chaos, eh?
* And then he deleted another tweet which omitted the reference to chaos…
Amid @GovRauner #HB40 decision, @ilgop Committee choose Griffin to lead race for ILSOS. #twill pic.twitter.com/JL3SskW4uf

— J.C. Griffin (@JCGriffinIL) September 29, 2017
* I DM'd him to ask about the two deleted tweets and this was his response…
Tech issues. It's live
* We'll see if this third one lasts because he still hasn't included the most important thing: Which members of the state central committee actually signed the letter on his behalf? That part of the letter is cut off on all three tweets…
Amid @GovRauner #HB40 decision, @ilgop Committee choose Griffin to lead race for #ILSOS in 2018. pic.twitter.com/MQU2OTojNx

— J.C. Griffin (@JCGriffinIL) September 29, 2017
*** UPDATE 1 ***  It just gets weirder…
Rich:

I am Shaun Murphy, member of the Republican State Central Committee and Worth Township Republican Committeeman. I am writing to inform you that Mr. Griffin's press release is misleading. The Illinois Republican Party has not endorsed his candidacy and I personally refuse to endorse someone's candidacy until they have been fully vetted and until we can measure the interest of all persons interested in running for any position.

The letter that is partially attached to his press release can be found in full at JC's website. The letter is signed by four members of the State Central Committee:

Fred Floreth, 13th Congressional District Committeeman

Jan Weber, 17th Congressional District Committewoman

Michael Neubert, 12th Congressional District Committeeman

John McGlasson, 16th Congressional District Committeeman

Spinning that the support of 4 members of our committee equates to an endorsement from the Illinois Republican Party is simply dishonest.

Please update your post to reflect that fact.

Shaun Murphy
*** UPDATE 2 *** This is one stellar rollout…
Rich, this is Sean Morrison.

I echo the same sentiment as Shaun Murphy, To be clear I have not endorsed Mr. Griffin and to my knowledge nor has the IL GOP endorsed Mr. Griffin.

I am uncertain as to the cause of this confusion on Mr. Griffin's behalf.

Regards,

Sean M. Morrison
Chairman, Cook County Republican party
3rd Congressional district, Republican State Central committeemen.
*** UPDATE 3 *** ILGOP…
"The Illinois Republican Party has not yet formally made any endorsements in the race for Secretary of State. These four out of eighteen State Central Committee members are acting in their own individual capacities as they are free to do, but are not speaking for the State Central Committee or Illinois Republican Party as a whole. With that being said, we are committed to defeating Mike Madigan's chief patronage boss, Jesse White, and electing a Secretary of State who works for the people, not a corrupt political machine." - Illinois Republican Party Spokesman Aaron DeGroot
*** UPDATE 4 *** The candidate has posted a clarification…
Due to abbreviated social media headlines and the omission of the portion of the support letter listing the names of the specific supporters, it may have been inferred by readers that the entire Illinois Republican State Central Committee (IRSCC) had endorsed me for Secretary of State when in fact it was only 4 members of the committee.

I will be working diligently to gain the support of the remaining members of the IRSCC and the individual Republican County Chairman throughout Illinois in the coming months.
38 Comments

















































































































Sorry, comments for this post are now closed.