* The Illinois Policy Institute has tended to avoid openly opining on "social issues" and has concentrated instead on its economic and government reform agendas.
But its leader John Tillman is so upset with Gov. Rauner's HB40 signature that he landed on last weekend's Sun-Times front page…
Gov. Bruce Rauner suffered new fallout Friday from his shocking decision to sign a controversial abortion bill — scratched as the featured speaker at a suburban Republican picnic to avoid creating a "distraction."

The backlash even hit a personal note from one of Rauner's closest political allies, John Tillman, the CEO of the conservative Illinois Policy Institute.

The think tank leader labeled the governor "Benedict Rauner" for disregarding his previous claims that he wouldn't sign the controversial House Bill 40, which expands public funding of abortion and protects it in case the U.S. Supreme Court overturns Roe V. Wade.
* And now the Illinois Policy Institute's news service is jumping into the fray…
No federal money for abortion, but Illinois can and will pay

There is a law that bans the federal government from using tax dollars to pay for most abortions. Illinois' new law that will have taxpayers pay for abortions gets around that by leaving federal money out of it.

Taxpayers in Illinois will pay for 100 percent of the costs of a new law that allows women on Medicaid to get an abortion because of the federal Hyde Amendment, which bans federal dollars from paying for most abortions. […]

The Illinois Department of Healthcare and Family Services, which oversees Medicaid, said they estimate the cost at almost $2 million a year.

State Rep. Jeanne Ives, R-Wheaton, said the cost could be ten times that.

Ives said Illinois can barely afford the 3 million people enrolled in state Medicaid right now.
Yes, because Rep. Ives would know the potential costs better than the state agency which administers the program.
Also, DHFS filed a fiscal note estimating the cost at $1.8 million before Rauner said he'd veto the bill and long before he signed it.
But, hey, just quote someone who has been talking about running against Gov. Rauner in the primary or at least how she will work to ensure his defeat without once mentioning her political intentions…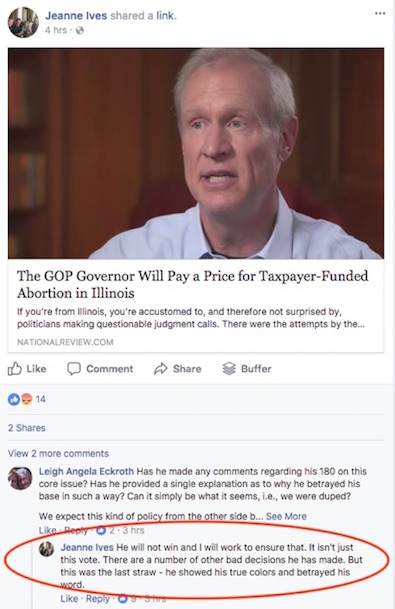 The news service does some good work. I use their stuff often. This article gives me pause.
* The Illinois Policy Institute not only damaged Gov. Rauner's brand when several of their employees went to work for him, it damaged its own brand by associating too closely with an unpopular governor. And then again damaged its brand when their people failed to right the ship. And then again when Rauner signed several "liberal" bills into law while some of those same staffers were on the payroll (including his chief of staff and his chief policy advisor).
Jumping into social issues will only cause more damage.
* But they appear to be going all in…
Illinois' current budget needs either more taxes or less spending to balance. After Gov. Bruce Rauner flip-flopped on a controversial abortion bill, will GOP members upset with the betrayal break with the party and support more taxes or fees to balance a budget?

Republicans are doubtful, but it happened with budget and tax hike votes in July and could happen again.

In signing House Bill 40, Rauner went back on his promise to conservative lawmakers that he would veto the measure that allows taxpayer money to fund elective abortions in the state. With the ensuing backlash, the governor and other GOP leaders will have to keep an unhappy party in line come time to address the state's budget, which Rauner has in tax hikes.
On what planet is a veto session tax hike to balance the budget being considered? That's just plain goofy, but it's another way they can work their HB40 rage into their "fiscal" stories.
37 Comments














































































































Sorry, comments for this post are now closed.