* Umm…
Carol Felsenthal: When you're on your campaign bus traveling downstate, do you sleep on the bus or do you find—

JB Pritzker: A motel.

Felsenthal: Not a Grand Hyatt? [Pritzker's family founded the Hyatt hotel chain.]

Pritzker: Have you been to central and southern Illinois?
Dude, there is a nice Hyatt in Champaign (I've stayed there), and another one in Bloomington. They're not Grand Hyatts, but even Chicago doesn't have one of those.
*** UPDATE ***  The campaign provided the rest of the answer…
CHICAGO MAG: Well I went to the University of Illinois, so I do know.

JB: Okay, so you do know, yeah. No, it's mostly small motels and wherever you can.

CHICAGO MAG: So it might be a Motel 6 or?

JB: It could be. Yeah, it's wherever there's something that's nearby where we need to be in the morning or on the way.
[ *** End Of Update *** ]
* Sun-Times…
A day after the two Democratic primary frontrunners bickered over attendance at a forum, all seven candidates for governor kept things civil at a debate hosted by Whitney Young Magnet High School on Wednesday evening on the city's Near West Side. […]

State Sen. Daniel Biss (9th) and Ald. Ameya Pawar (47th) were in lock-step with Pritzker and Kennedy in calling for a progressive income tax, changing the funding formula for Chicago Public Schools, raising the minimum wage, reinstating funding for mental health facilities, protecting DACA recipients and banning assault weapons.

Bob Daiber, regional superintendent of schools in downstate Madison County; anti-violence activist Tio Hardiman; and small-business owner Alex Paterakis joined the other candidates in hammering Gov. Bruce Rauner as a crony of President Donald Trump pandering to corporate interests. […]

The only time Pritzker called out Kennedy by name was to agree with him that the state should increase investment in Argonne National Laboratory and Fermilab to improve the state's renewable energy prospects.
The back-story on that debate is pretty cool, so click here to read it.
* Trib…
Democratic governor candidate Ald. Ameya Pawar released a new nearly 5-minute long digital ad as he was scheduled to begin on Thursday the second leg of his "Don't Close Our Communities" tour.

The ad called "Unity" shows the Chicago alderman on previous bus visits across the state. The latest leg of his tour is supposed to take him to 14 cities in four days. He'll be joined by his running mate, Cairo Mayor Tyrone Coleman.

"It's easy to prey on people's economic anxieties and turn other communities into the 'other' when people feel like they haven't been listened to. That economic violence is how we get to a place where bombast and ugly political rhetoric is the same as political authenticity," Pawar says in the video.

"We need to fight back against that. But the only way you fight that is with a positive agenda that brings people together," he says.
The ad is here.
* Hyper-local, but still interesting, considering the history there…
In these troubled times for the nation, it was touching to see peace break out this week in a Far North Side neighborhood long plagued by political conflict.

It was only this summer that a daughter of the 50th Ward's late, long-serving Ald. Bernie Stone, Ilana Feketitsch, lashed out at the current alderman, Debra Silverstein for what she thought was Silverstein's delay in naming a park in Stone's honor. Wounds inflicted during Silverstein's 2011 election victory over Stone clearly hadn't healed.

But at an official ribbon-cutting Wednesday at the newly unveiled Berny Stone Park in West Ridge — attended by Mayor Rahm Emanuel and dozens of friends and family of Stone — it was all so much water under the bridge.

A smiling Feketitsch (who previously said of Silverstein's successful campaign to unseat her father that she was "shocked" at how "some people" would "just dig their claws into you"), and Silverstein (who fired back through gritted teeth in June, "I'm sure she's very happy"), hugged it out in front of the mayor.
* Heh…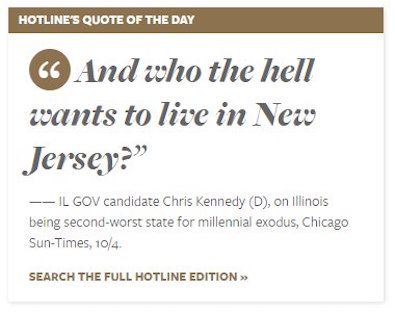 * Related…
* Republicans picnic in Palos Park without Gov. Rauner: "When Gov. Bruce Rauner ran three years ago he said he had no social agenda, and here we are," said David Dewar who attended the picnic in the character of Uncle Sam. "He promised a lot of pro-life religious organizations that he wasn't going to do this," Dewar said. "I believe in the right for babies to decide, not in reproductive rights. Now, they're forcing me to take my tax dollars to fund something I don't believe in."
23 Comments




































































Sorry, comments for this post are now closed.