* Facebook ad…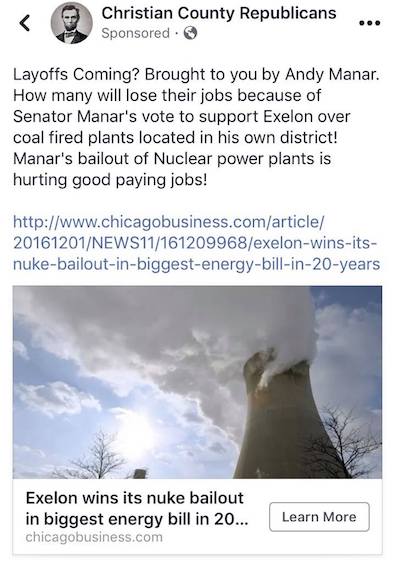 The Christian County Republican Party is run by Seth McMillan, who you will recall announced he would run against Sen. Andy Manar last week.
The article referenced in the ad is about the ComEd bill. Trouble is, Manar voted against the ComEd bill.
If this was a TV or radio ad, Manar would likely be able to get it taken down. Facebook has been another story. The ad has been running for weeks. Manar even tried running an ad to counter the false GOP ad, but that ad was taken down.
* Here's how Manar described the process to me today…
Our paid ad referencing the fake Christian County Republican ad was approved by Facebook. We simply posted a screenshot of the rollcall of the bill where there is an "N" by my name and a screenshot of the Christian County Republican paid ad. Then about one day into the schedule for our paid ad, Facebook sent us a message saying that our ad violated their policy of paid advertising referencing another paid ad. And then took the step of suspending our ad while the Christian County Republican ad continued.
That's insane.
* Manar sent a blast e-mail about the ad early this morning…
As a father, my children know the rule: If you make a mistake, you own up to it. Don't lie about it. My kids know that, if they lie (especially if they design a lie purposefully) they have no choice but to admit it and apologize.

It's hard to say, "I'm sorry. I lied." But truth is nearly always inescapable.

For weeks now, central Illinois Facebook users have been peppered with ads lying about my position on a multi-billion-dollar bailout for the energy corporation Exelon. Paid for by the Christian County Republican Party, the ad accuses me of voting to give Exelon the okay to impose the largest energy rate increase in U.S. history. That increase comes both at the expense of rate-payers and coal-fired plants and the workforce that relies on good jobs.

Here's the problem, I didn't vote for the bailout. I voted AGAINST it. The truth is, the Christian County GOP propaganda team is lying.

With more than a year before the 2018 election, Christian County GOP bosses are clearly willing to engage in fake news, false facts and flat-out lies. Blatantly lying about my record should offend everyone – Democrats, Independents and Republicans alike.

Politics is always riddled with embellishments. But the families and citizens of central Illinois are decent, honest, hardworking people. They have every right to be offended and turned-off when they're lied to. Many of them are.

Make no mistake, millions of dollars are geared up to defeat me in the next election. Big-money opponents don't like our ability to bring average, hard-working people together - Democrats and Republicans alike. There's a desperation to use anything to break down the bipartisan approach we've found successful. For whatever reason, our success at compromise to make central Illinois better, is a threat worth lying about.

So, unfortunately, we can expect more lies and far more personal attacks.

That's why your active support is so critically important. When my team sees lies, I need your help to respond to them. When we're attacked without merit, your willingness to help set the record straight is critical.

If you're interested in helping us, I encourage you to follow our campaign's Facebook page so you can help call out fake news and phony claims.

I'm not expecting the Christian County GOP leaders to say to the citizens of central Illinois, "I'm sorry. I lied to you." As a father, however, I'll forever expect my children to reject the impulse to lie.

–Andy
25 Comments










































































Sorry, comments for this post are now closed.