* One of the most over-used dodges by House Democrats when asked where they stand on Speaker Madigan's reelection is saying they want to first wait and see who the candidates are….
[Sen. Jason Barickman (R-Bloomington)] wished Rauner would have vetoed [HB40] because of the cost, and the Senator appeared to dodge the question of whether he will support Rauner for reelection or back a primary challenger.

"The reality is me – and any other Republican – are going to look at the field of prospective candidates for governor. We're going to know what that field looks like here in just a few short weeks and I think we're going to make our decisions based on [the candidates,]" he said.
As I noted in my newspaper column this week, these questions weren't even being asked before the governor signed HB40. And now a bunch of Republicans are going to be put in an awkward situation, particularly if Rauner does get a primary opponent.
* Speaking of which, I can't help but notice that Utica is about 80 miles and a world away from Rep. Jeanne Ives' home town of Wheaton…
* Rep. Ives also shared this post on her FB page…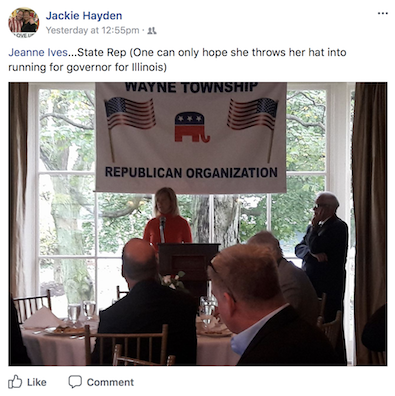 17 Comments


















































Sorry, comments for this post are now closed.