* He's ba-ack…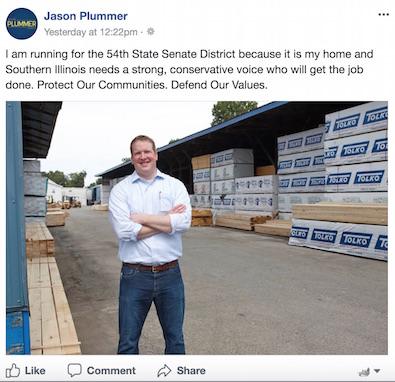 * Plummer appears to be taking the Jim Oberweis route. Run statewide, run for US House then run for Illinois Senate…
Jason Plummer, of Edwardsville, confirmed on Facebook he is seeking the seat being vacated by state Sen. Kyle McCarter, R-Lebanon, who said he is not running for re-election. […]

Plummer is the fourth candidate to jump into the Republican primary for the 54th state senate district. Also running are Rafael Him of New Baden, Ben Stratemeyer of Centralia, and George Barber, the Greenville University men's basketball coach.

Plummer, the vice president of R.P. Lumber, was the lieutenant governor nominee when state Sen. Bill Brady, R-Bloomington, ran for governor in 2010. Brady lost to former governor Pat Quinn.

In 2012, he was the GOP candidate in the 12th congressional district and lost to Democrat Bill Enyart, of Belleville.
41 Comments


























































































































Sorry, comments for this post are now closed.