* Press release from House Republican Leader Jim Durkin's primary opponent…
Mickey Straub kicks off campaign to bring true conservative leadership to Springfield

"The support and energy of this crowd reinforces what we already know: Illinois is on the wrong path, the Republican Party has lost its way and we need new leadership in Springfield," said candidate Mickey Straub. "Everyone here recognizes that career politicians like Jim Durkin and Mike Madigan have hurt the state with yet another tax hike. We need a representative who puts principles and the people before self-preservation. It's time to put Illinois first and elect a true, principled conservative as our state representative for this district."

Kicking off the campaign with Mickey was a crowd of over one hundred friends and community leaders, including former Chicago Bear and '85 Super Bowl Champion, Hall of Famer Dan Hampton. Last night's rally follows a release of data by the state board of elections showing current GOP leader Jim Durkin has turned his back on conservative principles – families of his district – and Republicans by taking money from Democrats and Mike Madigan supporters.

"The people of our community want common sense leadership and more principled conservatives in our statehouse. The time for a new direction is now, because Illinoisans can't take a back seat to career politicians and special interests any longer. I'm running to put Illinois on the Right Path."

Mickey Straub is the conservative reform candidate for the 82nd House District, which includes Western Springs, Burr Ridge and Lemont. Mickey is the president of Sales Activity Management, Inc., a faith-based performance measurement company in Burr Ridge, a husband, parent, Catholic and a community leader. He is serving his second term as mayor of Burr Ridge.
The "release of data by the state board of elections" stuff probably refers to this recent story in one of Dan Proft's papers.
* Anyway, on to the caption contest featuring Dan Hampton and the candidate…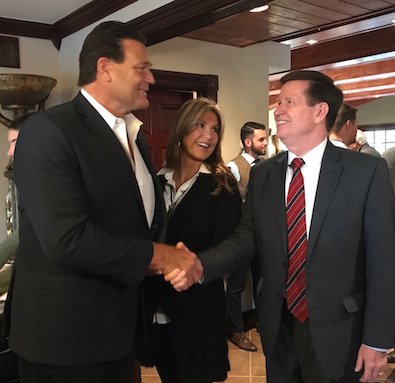 42 Comments





























































































































Sorry, comments for this post are now closed.