…Adding… I just noticed that the House has its ethics training program online. Click here to see the study materials and take the test yourself.
* House members received some sexual harassment training yesterday, provided by the Department of Human Rights…
Two sessions were held behind closed doors in a Capitol room normally reserved for House committee hearings, with Democrats gathering in the morning and Republicans meeting in the afternoon. Senators are scheduled to get the same training Thursday.

The curriculum consisted primarily of a roughly hour-long slideshow presentation, which included an introduction to the idea of the "grandma filter" — if you wouldn't do something or say something in front of your grandma, then you shouldn't at work, either.

The presentation defined two types of sexual harassment. "Quid pro quo" harassment, the slides said, happens when sexual favors are requested in exchange for support of legislation, campaign contributions or employment opportunities. And a "hostile work environment" is when inappropriate or offensive jokes are the norm or there are instances of verbal or physical conduct that is sexual in nature.

The slides present various scenarios and ask if they qualify as sexual harassment. They also say that violations are "based on the perception of the victim, not the intentions of the accused." The department also highlighted "third party harassment," in which anyone affected by unwelcome conduct can also be considered a victim. Lawmakers were told to take immediate and documented steps to resolve incidents of sexual harassment.
* Good insight…
Lawmakers sexual harassment training includes 10 page powerpoint. This slide speaks volumes about the heart of the problem @ABC7Chicago pic.twitter.com/YDQYLvEzUe

— Craig Wall ABC 7 (@craigrwall) November 8, 2017
* Mary Ann Ahern had these excerpts from the House training in her report…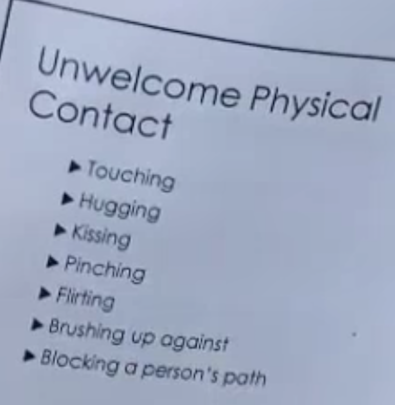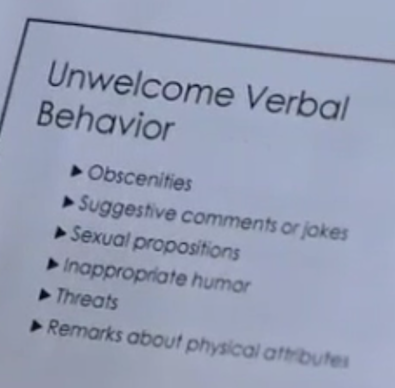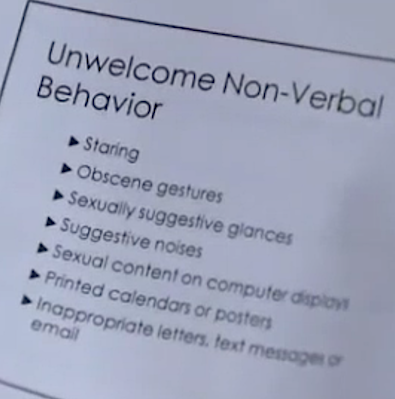 Rep. Jeanne Ives told Ahern that she'd had similar training before, so she decided to skip yesterday's training. She was the only House Republican to do so. Rep. Steve Reick (R-Harvard) had said he would boycott the training, but then changed his mind.
* From Craig Wall's story…
Some lawmakers said the increased awareness of the problem of sexual harassment in the capital is having a positive impact already and that the training will help.

"I think that will be very beneficial for everybody, but I've noticed a big difference just in the couple of days that we've been down here," said Patty Bellock, R-Westmont.
Same here.
* But Guzzardi could be right…
Sexual harassment has gone from a topic that wasn't talked about at the Capitol to one that is now the subject of awkward jokes.

Since allegations of rampant sexual harassment have surfaced in the wake of the Harvey Weinstein scandal in Hollywood, compliments at the Capitol are doled out with a caveat, and hugs come with a disclaimer that the hugger isn't trying to offend.

"I've noticed people being more reserved in their interactions, particularly with women colleagues, almost to the point of farce, like making jokes about 'Should I even hug you?' " said state Rep. Will Guzzardi, D-Chicago.

"I am glad it's on people's minds, I am glad people are thinking twice before they touch people," Guzzardi said. "My worry is that when this isn't under the bright lights, that people will just revert to their old ways of doing things."
* Meanwhile, Politifact took a look at something Speaker Madigan said…
Madigan said the Illinois Legislative Ethics Commission continued to function for nearly three years while the Office of Legislative Inspector General was vacant.

To the extent that the eight-member commission continued to schedule monthly meetings and saw to internal matters, it did "continue to function." This included its executive director receiving numerous reports of alleged ethics violations.

But without an inspector general, it could not function in its capacity to take substantive action on alleged ethics violations. This is why Denise Rotheimer's complaint saw no action until she went public with her allegations in a House committee hearing.

There's an element of truth in Madigan's statement but there's a lot more that's missing. We rate it Mostly False.
* Related…
* Public defenders file lawsuit over harassment by inmates
64 Comments































































































































































































Sorry, comments for this post are now closed.