* Using union contractors on private home construction isn't exactly common. But I guess stuff like this happens when Rep. Michael McAullife, Chicago's only Republican state legislator, who has past union support but then repeatedly voted against unions on a bill to ban the creation of local "right to work" zones in Illinois and then hired non-union workers for extensive renovation work on his house…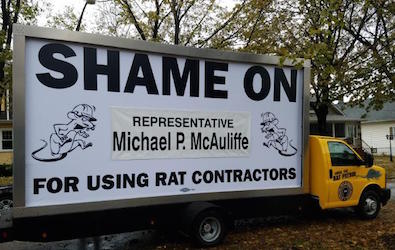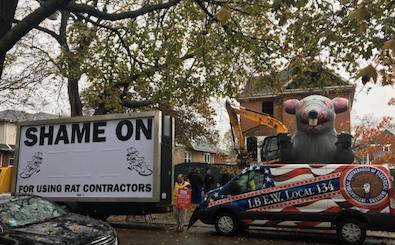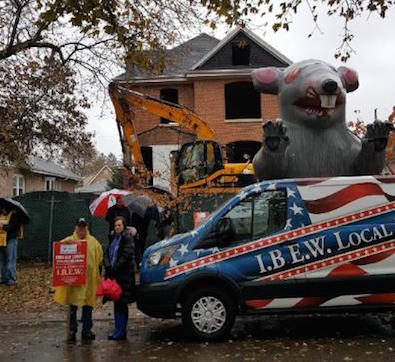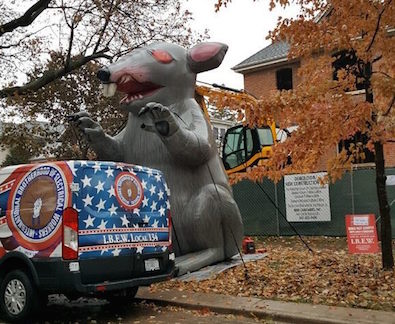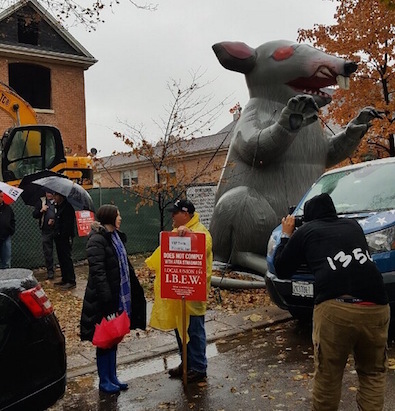 Operating Engineers Local 150's truck and IBEW Local 134's van are pictured above. It's IBEW's rat and I'm told the union has established an official picket line.
150 is upset about a non-union excavator operating within the city limits, but they're just doing "bannering" - meaning its truck drives around.
As you already know, 150 took the lead on the right to work zone ban bill, which could not overcome a Gov. Rauner veto.
I've asked the House GOP for a response.
Fair or not?
*** UPDATE 1 ***  From Rep. McAuliffe…
I respect that people have a difference of option and the right to peaceful protest. This is the core of our democracy and fabric of our freedom. However, protesting outside of my home and driving a van with disparaging content in front of my children's school is completely unacceptable. My presumed opponent, Merry Marwig and certain union leaders have demonstrated a new low in politics and while I respect that fact that we have a difference of opinion I would hope that the line can be drawn when it comes to disrupting the lives of my family and our neighbors.
It appears from one of the photos that Marwig was in the crowd at his house.
*** UPDATE 2 *** From Merry Marwig…
Michael McAuliffe has taken millions of dollars from Bruce Rauner, and he continually votes with Rauner at the expense of union families from our neighborhood. Just last week, McAuliffe broke a promise when he thought we weren't looking by refusing to stand up to Rauner's extreme assault on workers' rights. After 20 years of Michael McAuliffe pretending to be our buddy when he's in our neighborhood and then turning his back and selling us out in Springfield, it's no surprise that hardworking men and women are calling out McAuliffe's dishonesty.
99 Comments








































































































































































































































































































Sorry, comments for this post are now closed.