* Mark Brown…
J.B. Pritzker and Chris Kennedy proved Monday that rich Illinois Democrats are no more inclined to be forthcoming about their personal finances than rich Illinois Republicans.

I know better than to be surprised, but I'm still extremely disappointed.

By making public only the front two pages of their income tax returns, Pritzker and Kennedy fell far short of the ethical standards we should be demanding of an Illinois governor.

They both chose to keep secret the accompanying schedules and statements from their returns that explain where they made their money, as well as the deductions used to lower their tax bills.

Their only real defense for this approach is that's the way Gov. Bruce Rauner does it.

Sorry, Republican Rauner should not be the standard of good government for Democrats, even for the rich ones.

For some reason, rich people think their taxes are just too complicated for the rest of us to understand.
Agreed.
* The Tribune fills in some blanks…
Pritzker's income grew prominently the past three years largely through money from partnerships and trusts, which totaled $13.2 million last year compared with $5.9 million the year before. In 2014 the Pritzkers reported $2.7 million in business income as their primary source of money.

Pritzker spokeswoman Galia Slayen said the rise was based on investments and disbursements from trusts. "Some trusts are required to give distributions every year and in some years they did better, some years they did worse," she said.

The returns also showed that in 2014, the couple paid no state income taxes after taking nearly $150,000 in tax credits for research and development, as well as for property taxes and educational expenses. Last year, the Pritzkers reported paying more than $456,000 in Illinois income taxes and in 2015 paid $180,000 to the state treasury, the documents show.

Asked why Pritzker paid no Illinois income tax in 2014, Slayen said the candidate "made personal venture capital investments in Illinois companies, which qualified him for angel investment tax credits." […]

Kennedy, an heir of the iconic Massachusetts political family, and wife Sheila paid $174,000 in federal income taxes and $43,127 in state income taxes last year. The campaign did not make available tax records from previous years or schedules showing deductions. Records for last year show the couple had $810,000 in itemized deductions to reduce their federal taxable income to $433,644. A campaign spokeswoman said the large deduction figure was the result of a donation to Top Box, the nonprofit food company Kennedy and his wife run.
* WTTW…
A Chicago tax attorney warns that it's hard to extrapolate much information from just the tax cover sheets released by Pritkzer and Kennedy.

"You're short on detail and long on conjecture," said the attorney, who works for a top Chicago firm and asked for his name to be withheld for lack of specifics on the candidates' financial situations. "There's nothing about an income tax return really that tells about (an individuals') net worth." […]

Cook County Clerk David Orr, who is not running for re-election, says the vast amount of money spent on campaigning is the single most important issue in politics today.

Orr says that while Illinois has done a commendable job of passing laws that make it easier for citizens to vote, including automatic voter registration, Election Day voter registration and extended early voting windows, "we're losing people because of the money in politics."

"If our speech is really determined by the amount of money you have, which it is now unfortunately, and then the campaigns get longer, and the harder the campaigns air distrustful, negative ads, that is having an enormous impact on think on the democracy." […]

"The billionaires, no offense to either one of them, can start campaigning 15 months ahead, 18 months ahead and that is very undemocratic. It also ties people to big funders, discourages good candidates, turns off the public," Orr said, as he warned that the feel-good, "fuzzy" ads will undoubtedly turn negative after the start of the new year. He says it's hard for the public to discern the truth of those ads, and that wreaks havoc on democracy.
I get some of what he's saying, but, c'mon. It ain't just super-rich people running misleading ads.
* Sen. Biss went off on Twitter last night…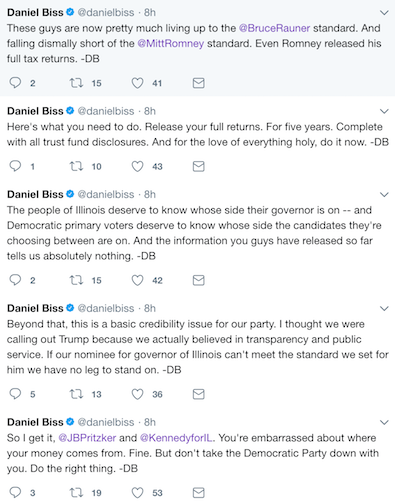 42 Comments





























































































































Sorry, comments for this post are now closed.