* From Gov. Rauner's appearance on WJPF Radio today…
Tom Miller: Governor, I spoke with Comptroller Mendoza last Friday and it's the governor's fault that we're spending too much money. [Rauner laughs] And, you know, they say 'Look, the governor has extraordinary capability to cut. If he wants to cut, why isn't he cutting?' [Rauner laughs] Isn't that a situation where you cannot win, because if you go out and cut, then they'll go 'Oh, look what he's done' [Rauner laughs] and if you don't cut, they go "Oh, look what he's done'?
Before we get to the governor's response, the politics are the politics. All governors everywhere are in this trick bag. That's why you gotta sometimes do things that aren't popular if you occupy the big chair. It isn't fun, but that's the job. And if you can't handle the job, then let somebody else do it.
* Anyway, on to the governor's retort…
Gov. Rauner: Yeah, it's such a bunch of horse manure. I mean, this, she is, she is such a puppet for Madigan. And, she, all she does is put out there baloney that he tells her to put out.
You know, in today's environment, saying stuff like that about a statewide elected official who has a mind of her own is treading a very dangerous line. Just sayin…
*** UPDATE *** Comptroller Mendoza…
Sorry for the delay in paying attention to this. I was busy trying to manage through the backlog of unpaid bills that Gov. Rauner more than tripled since taking office.

On behalf of the 12 million+ people that I was elected to serve and to whom I am accountable, I am still waiting for Gov. Rauner to answer my question:

Why did you spend $2.8 billion in unauthorized spending and how much will your Rauner Tax cost the people of Illinois in order to pay for your deficit spending?

Focus. Governor. Focus.
In case you missed it a while back, the "focus" comment is explained here.
…Adding… Words have consequences…
Hey @GovRauner - I spent all day at a hearing on sexism in the workplace. You might want to join us next time. You're talking about a constitutional officer here. https://t.co/yVoXdRYgre

— Rep. Kelly Cassidy (@RepKellyCassidy) November 29, 2017
There's no place in IL government, particularly in the Gov's office, for a man like @GovRauner who cannot comprehend that women can make smart political and policy choices without being instructed to do so by a man. Women are sick of this crap. #twill https://t.co/WSZmiiNxXs

— Emily Miller (@EJMill) November 29, 2017
Because a woman can't have a mind of her own? This is what sexism looks like, folks. https://t.co/Z54W8u0Izd

— Aviva Bowen (@avivabowen) November 29, 2017
@GovRauner's insinuation about @susanamendoza10 is in character. The leadership team at GTCR, his old firm, looks like a Trump family photo. His cabinet is male dominated and monochromatic. And every one of his budgets would have hurt women. This is who he is.

— Christian Mitchell (@cljmitchell) November 29, 2017
I shouldn't have to say this, but @susanamendoza10 is nobody's puppet. https://t.co/P8bf8hhn6d

— Rep. Carol Ammons (@StateRepAmmons) November 29, 2017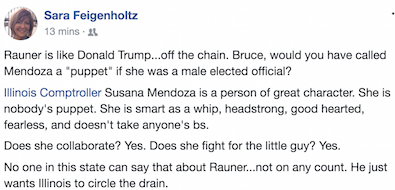 …Adding More… GOP Rep. Dave McSweeney…
Another day in the alternate reality of Bruce Rauner. Instead of personally attacking female elected officials, the Governor should focus on addressing the $2.8 billion Fiscal Year 17 deficit that he hid from the people of Illinois for months.
…Adding Still More… Sen. Toi Hutchinson…
Even now in this heightened awareness about sexism and women in politics and government, Rauner is still jumping at the chance to spew dismissive rhetoric about a credible and capable woman in government. Debate is cool. Do it on the merits.
* More Rauner…
The reality is, Madigan has been in charge of our state for 35 years. And every year he's been in charge, we've run deficits. We always spend more than we bring in and we don't fund our pensions like we should, and I pushed to fund our pensions properly. We regulate the heck out of our businesses and they leave. And we're in this long, slow decline and it's been crushin' southern Illinois. And I'm outraged about it.

And Mendoza, when she spins that kind of baloney, they have been in charge, they overrode my veto. I put out a balanced budget proposal, they overrode, uh, ignored it, passed an unbalanced budget, I vetoed it, they overrode me. And my answer is, we gotta get these guys out of office. That's why this next election cycle matters so much.
95 Comments




























































































































































































































































































Sorry, comments for this post are now closed.