*** UPDATE *** From John Tillman…
Hi, Rich,

One of the golden rules of journalism is to stick to the facts. Unfortunately, a hit piece published by Gateway Journalism Review missed the mark. The authors of this piece set out not to investigate the truth, but to build a case to support a false premise they'd already convinced themselves was true. Virtually every paragraph is riddled with inaccuracies or distortions.

It's important to note that before maligning the Illinois Policy Institute, the authors of this piece failed to pick up the phone and talk to the Institute. They even failed to offer our organization a chance to comment. If the authors had extended this basic journalistic courtesy, perhaps they could have avoided the many inaccuracies in their piece.

Our bias — as the authors like to refer to our point of view — is to advocate for policies that empower the people, not the government. We believe in fiscal responsibility, limited government and reforms that will grow the state's economy. It's very clear that Gateway's complaint about our organization isn't a process disagreement over modes of operation, which nearly every media organization has confronted and experimented with as new media has reshaped the landscape. It's a desire to silence different points of view and new ways of reaching the public.

Hit pieces like this don't make journalism better. They make Illinois worse.

John Tillman
CEO

Illinois Policy Institute
Illinois Policy
[ *** End Of Update *** ]
* From the introduction to a Gateway Journalism Review story entitled "Illinois' 'independent' news network publishes pro-Rauner propaganda"…
This report is the work of an investigative reporting class in the School of Journalism at Southern Illinois University Carbondale. The project analyzed public records about an interlocking network of conservative news organizations connected to the free market, anti-tax, anti-union Illinois Policy Institute. The SIU reporting project examined documents obtained under the Freedom of Information Act. In addition, reporters tracked down freelancers who wrote local Illinois stories from thousands of miles away. Nathaniel Dean Fortmeyer was the student who took the lead in the investigation. William Recktenwald taught the class and reported from Harrisburg. Recktenwald was an investigative reporter at the Chicago Tribune. William H. Freivogel is publisher of GJR.
* From the story…
A group of free-market billionaires and conservatives allied with Illinois Gov. Bruce Rauner controls a network of newspapers, radio stations, news sites and policy institutes promoting the governor's agenda while presenting themselves as independent and free from bias.

When people in Carbondale, DuPage, Chicago, Kankakee, Rock Island, Will County and other Illinois communities pick up the local newspaper or click on a website, they are promised traditional journalistic values — the "highest standards of truth and accuracy…and independence" — "Just the Facts" — "nonpartisan, nonprofit…dedicated to the principles of transparency, accountability and fiscal responsibility."

What readers get is a strong pro-Republican, pro-Rauner, anti-Michael Madigan slant manufactured by the interlocking group of media organizations revolving around the free-market, anti-tax, anti-union Illinois Policy Institute (IPI).

Readers also get "local" stories often written by freelancers thousands of miles away who never set foot in Illinois. And, even though the conservative network promises transparency, some funding is shrouded in dark, unreported money.
* There's also an accompanying graphic…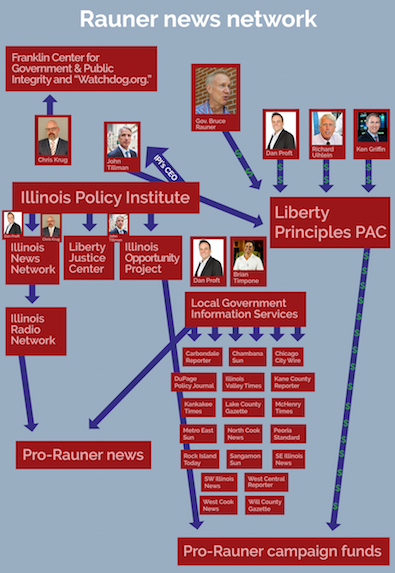 * From a companion piece…
Brian Timpone — who runs ICS and the Local Government Information Services newspapers where the stories are published — describes himself as an "entrepreneur focused on developing software and systems that grow and enhance media."

Timpone said in an interview that distant reporters are better and fairer than those who live in the community.

"The reason local news reporting is so crappy is because the reporters are too local. You don't want them to live in the communities…. If you have [a reporter who has] done city councils in a city, you are too close." Local journalists embedded in communities are "ill-equipped to objectively judge information," he said. "I am partisan to ideas. Free market. Capitalism."

In 2012 Timpone admitted that his company had made mistakes. This American Life had reported that a freelancer, Ryan Smith, had rewritten content from foreign contributors from the Philippines, who were given fake bylines. Timpone acknowledged the fake bylines were a mistake, although he still claimed the foreign contributors were just entering data, not writing stories.

Some of Timpone's current journalists say they can't talk about their duties because they are required to sign non-disclosure agreements. One of those is Chandra Lye, a freelancer from British Columbia. Her byline appeared on a Sept. 19 story in the Metro East Sun headlined: "Belleville area cheers Lisa Madigan's decision to call it quits."

Contacted via Twitter, Lye responded with an email, "I have been informed that I am not authorized to discuss the process with you."

Some reporters discussed their work.
57 Comments










































































































































































Sorry, comments for this post are now closed.