* From ICPR…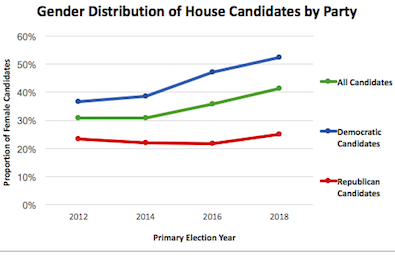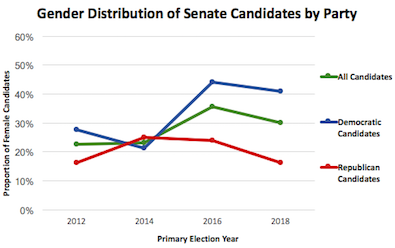 * Narrative…
While the average percentage of female candidates for 2018 State House and Senate Primary Elections is just 36%, female representation differs drastically depending on chamber and political party.

For example, female participation in Primary Election races for the Illinois House of Representatives will reach a new high in 2018, at 41% of all candidates. This is the highest percentage of female candidates to run for these seats in the last three election cycles.

State Senate races, however, have seen mixed results in terms of female candidates in Primary Elections. For this election cycle, only 30% of the candidates for these seats are women. This represents a six point decrease from 2016.

The percentage of women running in Democratic Primary Elections in 2018 is more than twice the percentage of women running in Republican Primary Elections for General Assembly offices. Female Democratic Primary Election candidates make up 52% of State House races, and 41% of State Senate races. Only 25% of State House and 16% of State Senate candidates in Republican Primary Elections are women.

This gender gap between parties has been fairly consistent in Illinois. Since 2012, there was only one year in which a higher percentage of women ran in Republican Primary Elections for State House or State Senate than in Democratic Primary Elections.

This trend may help explain the overall decline in 2018 Primary Election Senate seats contested by women. The Senate seats up for election in 2018 are disproportionately Republican-held, resulting in a higher number of Republicans running for those seats, and leaving fewer women running for the Senate overall.
* NPR Illinois…
The only increase came from female participation in the races for the House of Representatives and the race for lieutenant governor—where three women are competing for the spot.

Sarah Brune, Executive Director for the Illinois Campaign for Political Reform, says women candidates often face more hurdles than their male counterparts. "There may be more people interested or activated to get involved in politics, but being a candidate for office is nothing easy or simple—it's difficult," she says, "and it requires a lot of time … money and resources."

Brune says the rising costs of campaigns in Illinois might also prevent female candidates from running. "Our elections in Illinois are becoming more and more expensive, and in some ways that makes them more and more exclusionary," she says.
2 Comments
- Dance Band on the Titanic - Thursday, Dec 7, 17 @ 11:27 am:

If 2018 turns into the year of the woman candidate then this does not bode well for the ILGOP.




- VanillaMan - Thursday, Dec 7, 17 @ 6:06 pm:

How many female candidates do they have running for the top spot?

Zero



Sorry, comments for this post are now closed.