* Heh…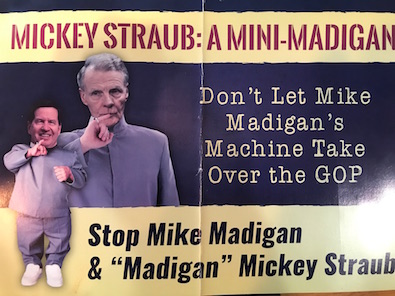 Background is here.
* This robocall from what appears to be a fake group went out this week attacking Operating Engineers Local 150 for supporting Mickey Straub. But there's some dispute about how many Republican primary voters in Leader Durkin's district actually received it. A couple of high-level Local 150 officers got it and one of them doesn't even live in the district…
Hi, this is Sarah. And I'm calling you because of Mickey Straub's open hostility towards organized labor. Mickey wants to repeal the prevailing wage here in Illinois and strip money from the pockets of working class families, all in the name of a radical anti-union agenda.

He called Scott Walker's anti-union agenda 'inspiring.' It's a shame the leaders at Local 150 are selling out their own members to play politics and support Mike Madigan's backed candidate.

Don't be fooled by Mickey. He's a rat and no friend of labor.
Except for the Madigan reference, this is most definitely not a standard Republican primary voter pitch. More like a brushback pitch at 150. Full audio is here.
* Meanwhile, from DumpDurkin.com…
Jim Durkin has been an Illinois Representative for 20 years.
​
Jim Durkin voted against concealed carry for law-abiding gun owners.
​
Jim Durkin voted for a de facto state gun registration requirement on law-abiding gun owners.
​
Jim Durkin voted to provide health care benefits to persons in this country illegally.
​
Jim Durkin voted for legislation that allows people to change the gender on their birth certificate to the gender with which they identify.
​
18 Comments





















































Sorry, comments for this post are now closed.