* I think some Chris Kennedy campaign staffers were a bit surprised when a new organizational chart was distributed by the candidate's 25-year-old son, Chris Jr., who appears at the very top. Here's the upper portion of the chart…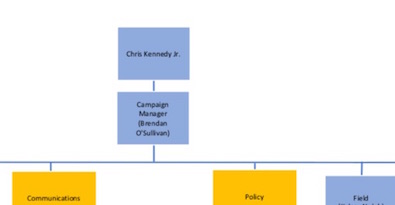 * The Sun-Times explains…
Kennedy, one of former U.S. Sen. Robert F. Kennedy's 11 children, says his four children are all volunteering for the campaign in varying roles that will become more significant in the new year. A new organizational chart of the campaign shows Chris Kennedy Jr., 25, at the helm of the organization. But campaign spokeswoman Rebecca Evans said Kennedy Jr. is there to "support" multiple departments, including finance and communications. Kennedy took time off from a full-time management consulting job to help the campaign ahead of the primary March 20.

Kate Kennedy, 26, has been active in the campaign for months, helping with events and "organizational issues," according to her father. Sarah Kennedy, 23, is a teacher in Englewood but serves as a surrogate for events on the weekends. And Clare Kennedy, 19, is planning to spend a six-week college break to help bolster her dad's campaign.

Kathleen "Kick" Kennedy — the 28-year-old daughter of Robert Kennedy Jr. — is helping out with the campaign's communications and digital teams. She previously ran digital communications for the Robert F. Kennedy Human Rights advocacy organization. And the Democratic candidate says there's more family on the way.

"Almost all of my brothers and sisters and cousins will be coming in during the next three months, and that's really great. They're able to cover some of the parts of the state where we have two events simultaneously and that's super helpful," Chris Kennedy said. "Chris, in particular, he's able to spend the most time on the campaign and it's really helpful to have somebody who can call me at 11 o'clock at night or 6 in the morning and say, 'Hey you need look at these two or three things,' or 'be prepared' or 'stick to your call time' in a way that is more difficult for someone, let's say in a classic sense, works for me."
Despite some rumors, the campaign emphatically denies that the candidate's son has taken over the operation. And from what I'm told, the son does a good job of handling the candidate in a way that others haven't been able to.
At the request of the campaign, I'm not going to post the entire organizational chart, but it shows that Mary Beth Sova has been brought in as finance director. Hanah Jubeh, a consultant who has served as Kennedy's chief fundraiser, is not on the chart.
25 Comments










































































Sorry, comments for this post are now closed.