* Some background is here. CBS 2 has a story about Sen. Kwame Raoul's AG campaign taking $100,000 in $10K increments from companies owned by local tobacco mogul Don Levin…
"It's improper because there's a case pending before the attorney general, and it's seeking to influence someone who would be attorney general," said Jesse Ruiz, an attorney general candidate. "I think you have to stand up and show ethical behavior now, even before you ask voters to elect you to that office."

Illinois' attorney general is seeking millions from Levin's company, in a dispute over payments to the state from tobacco settlements. Raoul insists Levin's donation isn't a conflict.

"I've known him for years. He's contributed to me before, and all my votes have been anti-tobacco. I'm not for sale," Raoul said.
* From Maze Jackson's Facebook page…
I often tell the story of when I lobbied in Springfield, about the time heroin was changed from a crime to a sickness. I also talk about that being the turning point for me because at the same time we passed that law, we also passed a bill to ban flavored blunt wraps specifically, which was owned by a pair of Black businessmen.

I thought it was extremely odd that the the bill's sponsor Senator Kwame Raoul attacked flavored blunts (which contained no tobacco and were essentially wrapping papers) but made a specific carve out to protect menthol flavored wraps. I will never forget the after the bill passed, the two Black men asking me why their business was targeted specifically.

Fast forward a few years and it all comes to light that Raoul was operating in the interests of Don Levin (a billionaire tobacco magnate) who makes his money selling tobacco products in the Black Community, essentially killing us. Additionally, I thought the Attorney General was supposed to fight Big Tobacco not work FOR them. So for ten contributions of $10,000 our potential AG candidate is willing to support Big Tobacco?

Well, at least he didn't go cheap…
Ouch.
* I remembered when the flavored wraps language was added to the heroin bill, so I Googled it and found this story…
An Illinois House committee Tuesday approved a ban on flavored cigar wraps despite concern from lawmakers that it unfairly favors one company over another. […]

Tony Abboud, a lobbyist for National Tobacco, said the two provisions were combined for political convenience, because similar bans on flavored cigar wraps have failed twice already.

Abboud said the bill is anti-competitive. National Tobacco makes chocolate chip and cotton candy flavored cigar wraps, while other flavors, such as menthol and tobacco, are specifically exempted. National Tobacco's competitor, Republic Tobacco, makes those flavors.

"If you believe it is drug paraphernalia, why in the world would you leave unflavored wraps on the market?" Abboud said. "It is entirely and inherently inconsistent." […]

Sen. Kwame Raoul, D-Chicago, said the menthol and tobacco-flavor exemptions were requested by the Illinois Retail Merchants Association, which pointed out that the U.S. Food and Drug Administration's ban on flavored cigarettes specifically exempts menthol and tobacco flavors.
Emphasis added, because as Greg Hinz reported this week, all ten of the Don Levin contributions to Raoul were companies with the same address as Levin's holding company, Republic Group. Republic Group owns Republic Tobacco.
* On a side note, when I used the Google, this came up…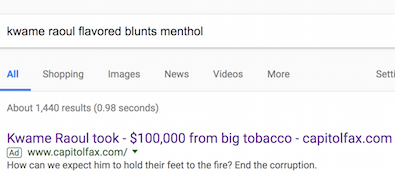 Clicking the link takes you to a post I wrote this week about Raoul and the contributions.
Obviously, I'm not running ads attacking Raoul, but somebody sure is. And that somebody is doing it in a way that avoids disclosing who is paying for it. Google shouldn't allow that to happen, but somebody out there is violating state law.
Whoever it is, please leave me out of your little dirty trick. Thanks.
16 Comments















































Sorry, comments for this post are now closed.