* Old news by now, but everybody seems to be weighing in, so let's get to it…
Sen. Dick Durbin left the White House Thursday "sickened and heartbroken," after hearing President Donald Trump refer to certain nations as "sh*thole countries," Illinois' senior senator told reporters Friday.

"I cannot imagine that in the history of [the Oval Office], that hallowed room, where the president of the United States goes to work every day, there has ever been a conversation quite like that. It was vile, it was hateful, it was racist," Durbin told reporters after attending a breakfast in the city to honor the Rev. Martin Luther King Jr.

Durbin said Trump repeated the term "sh*thole" during a meeting that was, ostensibly, a discussion about a potentially bipartisan deal on the Deferred Action for Childhood Arrivals or DACA. Trump has since tweeted that he used "tough" language during the meeting but never used the derogatory language that has caused outrage across the globe.
I asked Sen. Durbin's staff whether Durbin stood up to Trump at that meeting and took him to task for his remarks, but haven't yet heard back.
* Gov. Rauner was asked today if he had anything to say about President Trump's alleged comments…
Yeah, well, I'll say this. That language has no place in our political conversation.
It ain't the language, per se, it's the sentiment behind the language. But, OK, at least he said something.
* From Sen. Kwame Raoul, the state's most prominent Haitian-American…
As we approach Martin Luther King Jr. Day, the reported hateful comments spewed by the President remind us just how much further we have to go as a nation.

Today, I'm embracing the Kingian philosophy that darkness cannot drive out darkness and that only light can do that. That's why today I'm using my light - as a citizen of this country, as the son of Haitian immigrants, as an elected official and a candidate for office - to call out the injustices committed on our watch.

I am revolted by Donald Trump's vulgar dismissal and dehumanization of the people of Haiti, El Salvador and many African nations. Simply put, the President's remarks are vile, racist and unbecoming of the office he holds. Donald J. Trump is unfit for the office of the Presidency of the United States. He should resign or Congress should do its job and proceed with the impeachment of the President.

My position isn't simply about disagreements in policy, instead it's about what type of country we want to be. Do we want to be a country with a corrupt racist at its helm or do we want to be a country which embraces King's dream and those before us of to create a more perfect union? I choose the latter.
* JB Pritzker…
"I've said it before and I'll say it again: Donald Trump is a racist and a xenophobe who has never had the dignity to be in the White House," said JB Pritzker. "After unilaterally moving to end DACA and upend the lives of 800,000 young immigrants, including more than 41,000 in Illinois, Trump is resorting to offensive tactics to score a political win with his base. First, he insisted his senseless wall be part of an immigration deal and now Trump is spouting vile profanities about Haitian and African immigrants from the Oval Office. America deserves better, and when I'm governor, I'll protect immigrant families and make Illinois a welcoming state for all."
* Biss…

* Congressional candidate Chuy Garcia…
Donald Trump's comments demonstrate his unfitness for the office. His ignorance, incompetence, and callousness make it difficult to distinguish him from a Klansman or a Nazi. As an immigrant and someone who has struggled to make our democracy inclusive of everyone, this is the most despicable comment I have heard from a President in my lifetime.
* AG candidate Jesse Ruiz…
In 2015, Donald Trump launched his presidential campaign by saying, "When Mexico sends its people, they're not sending their best…. They're bringing drugs. They're bringing crime. They're rapists."

Ever since that day, Trump has been displaying his racist attitudes like a badge of honor. It seems like the only words that can come out of Trump's mouth are vile hate or lies. His despicable remarks about "sh*thole" countries are simply the latest in a long and ugly string of insults, epithets, and attacks. Instead of begging for forgiveness from the American public, he lies like a coward. He should resign or be removed from office.

We must not let Trump's contemptible words distract us from his even more deplorable actions. Trump made this remark while talking with members of Congress about immigrants living here under the Temporary Protected Status (TPS) program. The TPS program has saved hundreds of thousands of lives, but it is clear that the lives of people of color do not matter to Trump.

Today, members of Congress from both parties are denouncing Trump's disgusting words. That's important, but it's even more important to make sure that Trump's vile attitudes do not destroy the lives of law-abiding immigrants from countries that have suffered catastrophic events. I call on Congress to move immediately to pass the SECURE Act, to continue the protections of the TPS program and create pathway to legal permanent residency in America, and to pass a clean DREAM act, to fix DACA and protect the futures of 800,000 promising young immigrants.

I hope Trump is out of office by next January, when I take office as Illinois Attorney General. If not, I look forward to standing up to the White House, holding Trump accountable, and taking him to court to protect the rights of everyone.
* Congressional candidate Sol Flores…
Flores said, "I'm deeply saddened by the incredibly disrespectful and racist remarks. This President does not speak for me or my community. Our country is stronger because of the diverse groups of immigrants that come here. I know this. I've lived this. And unfortunately President Trump doesn't see what I see."
* US Rep. Bobby Rush…
"It is disgusting and infuriating that the President remarks about immigration from "sh*thole countries" like Haiti, El Salvador, and African countries come on the 8th anniversary of the Haitian earthquake in which more than 200,000 people were killed.

"Is the President not aware that immigrants of all races, nationalities, and religions built this country?

"These comments not only highlight his pure ignorance, moral turpitude, and lack of judgment but his racism that has been a fixture of his career, campaign, and presidency.

"This is the same person who started his career being sued twice by the Department of Justice for racial discrimination because he would not rent apartments to African-Americans.

"This is the same person who launched the racist birther movement against the country's first African-American President, casting doubt on Barack Obama's birthplace.

"This is the same person who began his Presidential campaign calling Mexican immigrants rapists, murderers, and criminals.

"The President of the United States is racist.

"On the weekend where we should be honoring the spirit and legacy of Martin Luther King Jr., who fought for racial equality, we have a President intent on dividing this country.

"Everyone should condemn the racist remarks made by the President, especially those who were present in the meeting. Their silence is deafening. I commend Senator Dick Durbin for giving truth power.

"We cannot continue to let this dangerous President erode this country's reputation. We must stand up for our nation's values because it is clear President Trump will not."
* US Rep. Jan Schakowsky…
"Just when you thought Donald Trump could not get any more racist, he digs down to an even deeper low. These vile comments are unacceptable and unbecoming of the Presidency. It is time for my Republican colleagues to say so. Enough is enough. Silence is complicity."
I have yet to receive any press release or see a social media post by an Illinois politician praising the president's remarks. I'll let you know if that happens.
…Adding… Lame…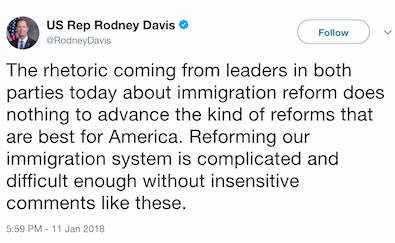 …Adding… Rep. Roskam…
"If true, the reported comments made by the President are disappointing and I urge him to reiterate his commitment to continuing America's legacy as a welcoming country for those seeking a better life and those willing to play by the rules. Our country has opened its arms to legal immigrants from around the world and we should never disparage anyone from any country. Illinois' 6th district has been a welcoming place for people from every nation, prioritizing missions and service to challenging regions across the globe to help make our world a better place. We must understand and appreciate that there are many people who wish for the opportunity to come to our country and live out the American Dream."
38 Comments

















































































































Sorry, comments for this post are now closed.