* Background is here. Chris Kennedy claims that his remarks at the Tribune editorial board today were taken out of context…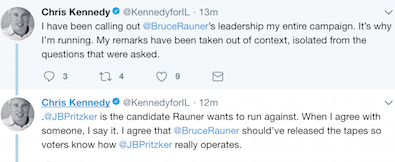 First, set aside the claim that Bruce Rauner publicly released those Blagojevich FBI surveillance tapes. The Chicago Tribune released them. Rauner just put the tapes into TV ads.
* ABC 7 political reporter Craig Wall released the full video of his question to Kennedy "and the full context" of Kennedy's response. Transcript…
Craig Wall: Somebody said, he put it this way, that Bruce Rauner is almost becoming like a super PAC for you as he's trying to undermine JB Pritzker.

Chris Kennedy: I think Bruce Rauner is trying to do what he thinks is best for the state of Illinois. Now we may disagree on what that is, but his willingness to speak truth to power, to take on the powers that have been strangling our economy for decades in this state is something that I think he should be applauded for.
* As noted below, Daniel Biss and the JB Pritzker campaign have both taken Kennedy to task. Biss tweeted that Rauner "should not be 'applauded' for the lasting damage and harm that he's done to the state" and the Pritzker campaign released this statement…
"The Worst Republican Governor in America unleashed devastation across this state and is standing in silence as the lives of immigrant families and healthcare for children hang in the balance, but don't worry, because according to Chris Kennedy, Bruce Rauner is just speaking 'truth to power,'" said Pritzker communications director Galia Slayen. "Throwing bombs and creating crisis is not speaking truth to power, but it's clear that Chris Kennedy has failed to understand that throughout this campaign."
…Adding… Another Kennedy campaign statement…
I've always been honest about Bruce Rauner's broken leadership in our state. Under Bruce Rauner's administration, our state amassed $15 billion in unpaid bills. Under Bruce Rauner's administration, our state went two years without a budget — the longest budget impasse in U.S. history. Under Bruce Rauner's administration, 1 million people were cut off of social services.

I'm running because Bruce Rauner has left our state in shambles. He's a failed governor and our state is desperate for radical change.

Taking my remarks out of context is a weak attempt from JB Pritzker to deflect from the pressure he's under. JB is the poster child of play to pay politics in Illinois and the FBI wiretaps that feature him begging Rod Blagojevich for political favors prove it. He's everything the Republicans want to run against.

I believe voters have a right to know what's on those tapes and I agree that they should've been released.
* The Question: Fair hits or not? Take the poll and then explain your answer in comments, please.
survey tools
33 Comments


































































































Sorry, comments for this post are now closed.