* From what I've been able to determine, this was a legit poll and the question was asked just in case Dan Proft's Liberty Principles PAC jumps into the GOP primary race for Jonas Petty…
JONAS PETTY of Pittsfield had raised less than $600 in his primary race against state Rep. C.D. DAVIDSMEYER, R-Jacksonville, as of Dec. 31, but survey calls going into the district have been accusing Petty of getting outside money from a questionable source.

Petty says he is being bullied with "blatantly false accusations."

And Davidsmeyer, who had more than $146,000 in his campaign fund as of Dec. 31, is offended by the tactic as well.

"I have nothing to do with this," Davidsmeyer told me. "It legitimately hurts us both." Some people, Davidsmeyer added, "are going to think that I'm behind it, and that's not my character."

Petty led me to some people who received "survey" calls late last week. NIKI ARCHER of Pittsfield, an accountant who supports Petty, said the caller from "Victory Processing" asked some basic questions about her intent to vote, but moved to a line of questioning that seemed to be positive toward Davidsmeyer and attacked Petty as "receiving funding from Chicago." That funder, she was told, had also supported a "child molester."

This sounds as if somebody might think that Petty is being supported by Liberty Principles Political Action Committee, a group that has gotten millions of dollars from Lake Forest businessman RICHARD UIHLEIN. But there's no indication that Petty is getting such support.
You'll recall that the HGOP is using the very same hit against House Republican Leader Jim Durkin's primary opponent, Mickey Straub. Mike Z is running that campaign and he uses Victory's polling, a company run by his old friend and fellow Rauner campaign vet Mike Schrimpf.
* Meanwhile, the pressures of a primary campaign, even one that hasn't yet amounted to much, may be getting to Rep. Davidsmeyer…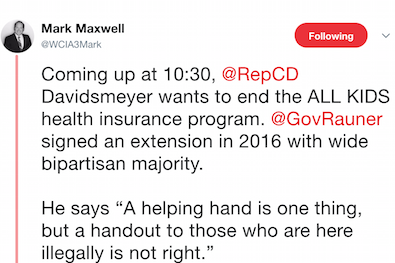 Mark later tweeted that Rep. Davidsmeyer wants to confine his cuts to kicking undocumented kids off the program in order to save the state $38 million. But, of course, somebody would end up paying when those kids go to the emergency room.
* Related…
* The trouble with Medicaid work requirements: Kicking people off is one way to save money on Medicaid. But under a 1986 law signed by President Ronald Reagan, hospitals are obligated to provide patients with emergency care regardless of their ability to pay. If Medicaid doesn't cover these bills, hospitals and taxpayers will.
22 Comments

































































Sorry, comments for this post are now closed.