* From Friday…
Daniel Biss today released the following statement in response to WCIA-TV's report detailing how JB Pritzker transferred hundreds of millions of dollars worth of Hyatt Hotel Corporation stock from offshore accounts in the Bahamas to shell companies established in South Dakota and Nevada:

"JB Pritzker has claimed to be the solution, but today's report detailing his latest tax scandal is more proof that he's a continuation of the problem.

"JB's repeated tax schemes don't just cheat the state — they cheat middle-class and working families who have to make up for his tax evasion with higher taxes and reduced services. JB transferred money from offshore accounts to out-of-state shell companies that were not listed on his Statement of Economic Interest. This report has raised some alarming questions, and now JB Pritzker is asking us to take him at his word that he paid his fair share in taxes while still refusing to release his full tax returns. We should all be offended.

"We can't trust a billionaire who benefits from the broken system to fix it. And we certainly shouldn't elect one as the next governor of our state."
OK, this was part of an interesting turn of events. A WCIA story was posted at 3:58 Friday morning, but was then taken down. Click here for the original, which I saved on my hard drive, and click here for the revised story, which was posted Friday night.
* The initial explanation for why the first story was taken down…
The Pritzker campaign has asked for time to respond to this story. We have decided to temporarily suspend the article until we can include their full response. https://t.co/bqW35mXmEu

— Mark Maxwell (@WCIA3Mark) January 26, 2018
* Maxwell explained further…
An anonymous Twitter account accused @JBPritzker of "financing his campaign by liquidating offshore assets." The SEC documents we found don't prove that. They do show Pritzker dumped $220M in stock just as his prospects for a job in @HillaryClinton's cabinet went up in smoke. https://t.co/BlY2qsXKyn

— Mark Maxwell (@WCIA3Mark) January 27, 2018
.@DanielBiss is highlighting our report as a "tax scandal." From the documents we reviewed, it appears to be a legal maneuver. https://t.co/wBhuumOtL5

— Mark Maxwell (@WCIA3Mark) January 27, 2018
* More…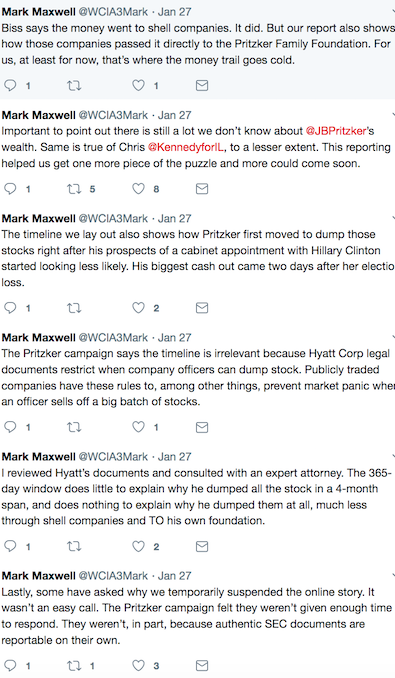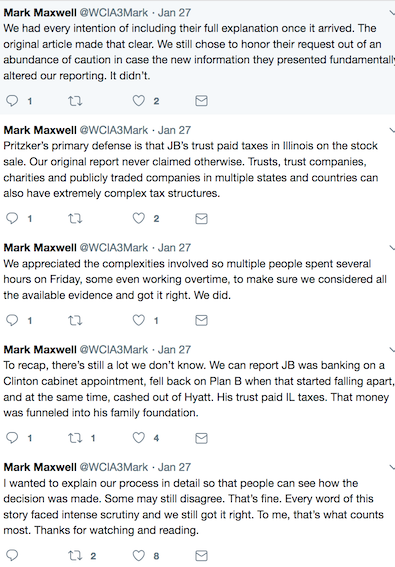 * The Pritzker campaign, however, still has problems with the revised story…
This "story" connects completely unrelated dates and facts and is a lesson in why regurgitating an anonymous political twitter account is so dangerous. Before taking anonymous information riddled with innuendo and parading it around as news, it would serve the voters to get the facts right first.

Below are excerpts from the story and bullets correcting inaccurate information:

In a series of tweets reminiscent of the now infamous WikiLeaks rollout of hacked DNC emails, the mysterious schemer peddled a web of tax avoidance theories which claim, with scant evidence, that Pritzker began filling his massive campaign war chest by "liquidating offshore assets" and funneling the money through shell companies in Nevada and South Dakota.

* This sale in question only concerns a domestic trust.
* No disbursements from offshore trusts ever went to trust companies in South Dakota or Nevada.
* Money from offshore trusts only goes to charity, and this sale has nothing to do with an offshore trust.
* The documents show the trust being a domestic trust.

SEC filing forms show the shares were cashed out and distributed into the Pritzker Family Foundation, which operates as a 501(c)(3) nonprofit charity. According to tax documents filed with the Internal Revenue Service in 2015, the Pritzker Family Foundation reported it held over $104 million in assets that year.

* This is false. The SEC documents do not show that.
* This sale is from a domestic trust set up in Illinois.
* It doesn't matter where the trustee or the trust company is located, taxes have to be paid based on where the trust was set up.
* All applicable federal and state (Illinois) taxes were paid as a part of this transaction.

According to insider transaction documents filed with the U.S. Securities and Exchange Commission, Pritzker began unloading his shares of Hyatt Hotel Corporation stock on August 19th, 2016, less than one month after Julian Assange first published emails damaging to Hillary Clinton on WikiLeaks. At the time, Pritzker was heavily invested in Clinton's presidential bid, donating over $15 million to Priorities USA Action, the pro-Clinton super PAC then run by current Pritzker campaign manager Anne Caprara.

* The timeline of Hillary Clinton's campaign has nothing to do with the timing of the sale.
* At the time of the first sale, August 19, there was no indication that Hillary was going to lose the election.
* The Pritzker family has restrictions on when they can sell Hyatt stock. Other Pritzkers sold stock around that time as well.

It was only after the trove of WikiLeaks emails was released, some of which contain fundraising emails and conversations with Pritzker himself, did he begin moving money out of his Hyatt fortune in the Bahamas to establish what would become, ostensibly, a hedge bet against Clinton's unlikely loss in November. Pritzker personally signed off on the documents that show he used shell companies established in South Dakota and Nevada to complete the multi-million dollar transactions.

* Again, this transaction has nothing to do with the Bahamas. If you look at the linked document it's from 2010, not 2016.
* The Pritzker family has restrictions on when they can sell Hyatt stock. Other Pritzkers sold stock around that time as well.
* Hillary Clinton's campaign had nothing to do with the timing of the transaction. Again, everyone thought she was going to win until election day. Even Trump's campaign thought he was going to lose on election night.
* They're not shell companies, they're trustees
* No money from offshore trusts ever went to trust companies in South Dakota or Nevada.

Each of these stock transactions appears to have been conducted legally, but Pritzker's political rivals will almost certainly raise questions about the timing and the ethics of the maneuvers, the civic duty of would-be public servants to pay taxes, the apparent contradiction between his transactions and his public statements calling on the wealthy to "pay their fair share," and his pledge on Tuesday night to create a "truly blind trust" that would separate him from conflicts of interest.

* These transactions were done legally. Period.
* Trusts for JB's benefit paid all applicable taxes on these transactions as Mark reports in the paragraphs previously.
Thoughts?
*** UPDATE *** Maxwell has responded. Click here for his thread.
44 Comments



































































































































Sorry, comments for this post are now closed.