* Press release…
A new We Ask America poll shows Democratic gubernatorial hopeful Daniel Biss climbing into second place past Chris Kennedy in a crowded field of governor hopefuls. At the same time, frontrunner J.B. Pritzker's lead has diminished to a level where this may soon turn into a much more interesting race.

Here are the latest results from our poll conducted Jan. 29-30, 2018 (811 responses; Margin of Error ±3.44%
I've already gone over this poll with subscribers today, so we'll stick mainly to WAA's release…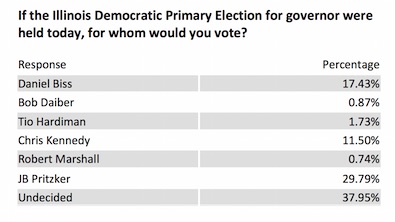 * Back to the pollster…
Biss' improvement puts him within striking distance in the Democrat-rich environments of Chicago and Suburban Cook. He falters elsewhere–especially downstate:
Click the pics for larger images…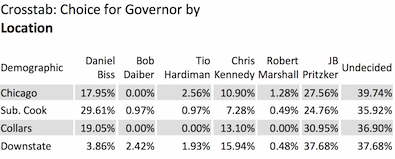 * Pollster…
Kennedy's inherent name recognition is keeping him in the game, but Biss' rise seems to put the State Senator from Evanston into a solid second position. Pritkzer's superior resources still make him the favorite, but the race is tightening up and may prove to ultimately be closer than once believed.

Click HERE to download the poll.
* Some early react…
Fastest response yet in this campaign from @KennedyforIL on New Democrat We Ask America Poll, showing @danielbiss surging: "voters are very much undecided and they're looking for another option besides JB Pritzker." #ILGOV

— Mary Ann Ahern (@MaryAnnAhernNBC) January 31, 2018
I'll post other responses as they come in.
*** UPDATE *** Biss campaign…
"The We Ask America poll confirms what we already knew," said Abby Witt, Campaign Manager, Biss for Illinois. "Voters understand the choice in this primary: a middle-class candidate with a progressive record and bold vision for Illinois' future, or a billionaire businessman who's now promising to fix the same broken systems he's benefited from. We're excited to continue growing Team Biss, and to build a state that works for the rest of us."
89 Comments










































































































































































































































































Sorry, comments for this post are now closed.