* Bernie and I apparently got the same info from an anonymous source yesterday…
The chairman of the Illinois Lottery Control Board used a disparaging term to describe East St. Louis following the recent controversy over allegations that President Donald Trump used profanity when talking about African nations.

Blair Garber of Evanston, who is also a member of the Republican State Central Committee, tweeted on Jan. 17 about the issue that arose from a White House meeting on Jan. 11. […]

The Lottery Control Board advises the lottery superintendent regarding operations, conducts hearings concerning complaints or violations and establishes advertising policy. Garber was appointed to the board in May 2016 by Gov. Bruce Rauner, and the Senate confirmed the appointment unanimously that month. The appointment letter said the post pays expenses, but comptroller's records don't show any payments to Garber for his service.

Garber represents the 9th Congressional District on the GOP State Central Committee. That district includes Rauner's Winnetka home.
* The tweet in question, edited slightly by me…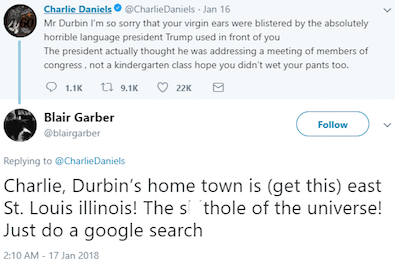 * The governor's office gave Bernie and me the same response…
There is no place for this kind of language in our political discourse.
* Ah, but there's more, and I shared it with the Rauner administration as well. This one has since been deleted…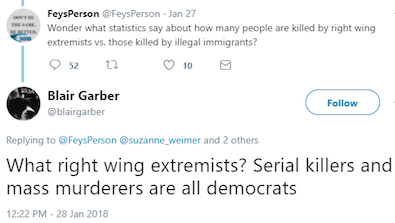 * And from his Facebook page, with a slight edit by me…
* Garber was also bragging about how well he knows the governor on Facebook this week during an online spat…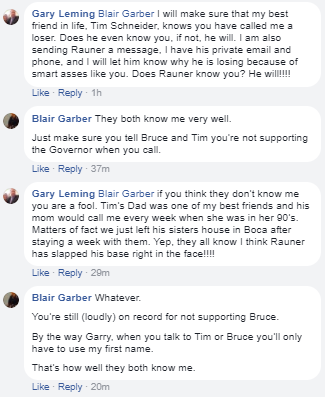 * Indeed, Garber's Evanston Township GOP recently endorsed Rauner in the Republican primary and sent out this press release…
In advance of the March 20th Republican Primary, the Evanston Township Republican Organization announced its endorsements across the ticket. "We're proud to support such an outstanding slate of Republican candidates who will push hard for conservative principles on behalf of Illinoisans," said Evanston Township GOP Committeeman Blair Garber.

Committeeman Garber added, "Illinoisans agree that Mike Madigan's reign of terror must come to an end. We need candidates who will stand up to the Madigan Machine and politics as usual. These men and women will be effective and tough citizen legislators. It's high time we had some leaders with a backbone in Springfield."
* From today's Daily Northwestern…
Rauner passed HB40, which ensured access to legal and safe abortions in Illinois should the U.S. Supreme Court overturn its ruling in Roe v. Wade. It also repealed provisions that limit health care options for women who receive coverage under Medicaid and in-state worker health plans. […]

Garber said he feels the bill created a lot of turmoil because Madigan designed it to do so. He added that Madigan chose to put forth the bill at a time that would "manipulate pro-life voters in Illinois." […]

"If Bruce is not (reelected), then the state will be in complete Democratic control," he said. "We will lose all the donors. We will lose all the financing. … That'll be the end of it. Illinois will be a one-party state run by Democrats."
* From one of Dan Proft's newspapers…
Garber is a staunch ally of Governor Bruce Rauner of Winnetka. He is one of a handful of township committeemen who has endorsed Rauner in the March 20 GOP primary, in which he is squaring off with State Representative Jeanne Ives (R-Wheaton).

Rauner appointed Garber to the Illinois Lottery Control Board in May 2016.

Garber also serves as the representative from the 9th U.S. Congressional District to the Illinois Republican State Central Committee. Rauner lives in the 9th Congressional District.

Durbin graduated from East St. Louis Assumption High School in 1962.

East St. Louis then had more than 80,000 population and was 55 percent white and 45 percent black. In 2016, the U.S. Census reported it had just under 27,000 population, 98 percent black currently.
*** UPDATE 1 *** Rep. Dave McSweeney, who is supporting Rep. Jeanne Ives' candidacy…
Governor Rauner should immediately fire Blair Garber, his handpicked Chairman of the Lottery Control Board. Garber is also a top Rauner political operative. In addition to firing Garber, the Governor should immediately apologize to the citizens of East St. Louis and all Illinois citizens for the disgusting comments made by his political appointee.
*** UPDATE 2 *** Sen. Clayborne…
The Chair of the Illinois Lottery Control Board is under fire for comments he made about East St. Louis earlier this month. Evanston resident Blair Garber used the same disgusting remarks used by President Trump to describe third world countries to describe East St. Louis in a tweet.

Garber was appointed by Governor Bruce Rauner to the board that oversees the state lottery in May of 2016.

State Senator James F. Clayborne, Jr. (D-Belleville) represents East St. Louis in the Illinois Senate and is calling on the governor to ask for Garber's resignation from the board.

"For someone who claims to love the entire state, Governor Rauner seems to surround himself with people who care little for communities besides their own," the Senate's Majority Leader said. "If the governor does not ask for Mr. Garber's resignation then I think it is obvious how the governor feels about places like East St. Louis."

Clayborne says the comments made by Garber are insulting to the many East St. Louisans who have made great contributions to Illinois and the United States.

"When you make comments like that, you disparage the legacies and accomplishments of people like jazz legend Miles Davis, Senator Dick Durbin, Congressman Jerry Costello, Poet Laureate Eugene Redmond, Major General Marcia Anderson, Olympic gold medalists Jackie Joyner-Kersee and Al Joyner, United Nations Ambassador Donald McHenry, United States Ambassador to Morocco Dwight L. Bush and the thousands of unsung heroes who have called East St. Louis home."
*** UPDATE 4 *** Rep. Jeanne Ives…
"It's a disgusting remark. Those kinds of statements from a person in a position of service to the State of Illinois cannot be tolerated. There are a lot of families and a lot of communities struggling in Illinois because of terrible public policy choices made by ruling class politicians in both parties, including Gov. Rauner. The people suffering under the rule of craven, career politicians don't deserve to be ridiculed, the craven, career politicians do.

"Rauner will have to decide if his loyalties lie with people supporting him politically or the people he was elected to serve.

"Rauner should immediately remove Blair Garber from the Lottery Control Board."
*** UPDATE 4 *** Sen. Kwame Raoul's campaign…
Sen. Raoul is calling for the resignation of the chairman of the Illinois Lottery Control Board after he called the city of East St. Louis "the sh*thole of the universe."

"Today, I'm calling on Blair Garber to resign since Gov. Rauner refuses to publicly do so. Whether hateful comments come from President Trump or Gov. Rauner's handpicked lottery chief, Governor Rauner continues to describe the tone of hateful rhetoric instead of declaring that these individuals are unfit to serve.

Last night, I was in Washington D.C. for the State of the Union Address to stand up on behalf of those who often don't have a voice. As Attorney General, I'll be right here in the trenches and will be the voice of the voiceless. To the people of East St. Louis: I've got your back," Raoul said.

Democrats from across the Metro East are formally endorsing State Senator Kwame Raoul's candidacy for Attorney General.

"We're pleased to offer our support for Sen. Kwame Raoul's campaign to be this state's next Attorney General. Kwame has taken the time to listen to voters from across the Metro East and downstate Illinois. He knows we need a fighter and we know we can depend on him," said St. Clair County Democratic Central Committee Chair Bob Sprague.

"I've been in the trenches with Kwame and I can tell you that he's tough and has what it takes to be the people's attorney. He's the only candidate in this race who has stood toe to toe with Bruce Rauner and won. He's been my partner in protecting Illinois workers from Bruce Rauner's Turnaround Agenda and now I want him to be the Metro East's partner in the attorney general's office," Rep. Jay Hoffman added.

Raoul has previously been endorsed by Sen. Bill Haine of Alton and Sen. Andy Manar of Bunker Hill along with the Madison County Democrats.
*** UPDATE 5 *** Comptroller Mendoza…
East St. Louis struggles with many challenges, including neglect from the Governor's office. Governor Rauner should stand up for the people of East St. Louis by immediately rescinding the appointment of his Lottery Control Board Chairman, Republican State Committeeman Blair Garber. Governor Rauner and his hand-picked appointee should both apologize to the people of East St. Louis and the victims of Garber's other racist and bigoted statements. How about a plan from the Governor to jump-start East St. Louis' economy?
*** UPDATE 6 *** From the governor's press office…
Mr. Garber has apologized for his comments and is resigning from the Illinois Lottery Control Board effective immediately.
62 Comments

























































































































































































Sorry, comments for this post are now closed.