Biss hopes to use the resulting revenue in areas where he said Illinois has struggled, including K-12 education, higher education and infrastructure.

"The issue's not that we don't have the money to solve problems. The issue is the money's going somewhere else because of who's making the decisions, and this is a campaign about taking power back for the rest of us," he said.

Biss frequently criticized Pritzker during the meeting, calling him "Madigan's hand-picked candidate" and pointing to his efforts to avoid paying taxes. Biss defended his own record of both working with and standing up to the speaker.

"The amount of opportunity that Rauner has to attack Pritzker is, frankly, flabbergasting," Biss said. "(Rauner) wants to have an ugly, nasty … campaign that will be dispiriting to the entire state, and he wants to run against Madigan's candidate who has ties to (former Gov.) Rod Blagojevich."
* Biss campaign…
Late last week, JB Prtizker launched two attack ads in two days against Daniel Biss following two polls - including his own - showing Biss surging and Pritzker faltering.

The Pritzker panic rolled over into this week, with his campaign spokesperson posting five straight tweets targeting Biss this morning alone.

Judging by his campaign's growing preoccupation with, and repeated attacks on, Biss, it's fair to say JB Pritzker woke up this Groundhog Day weekend and saw nothing but a giant Daniel Biss-shaped shadow.
* Tweets…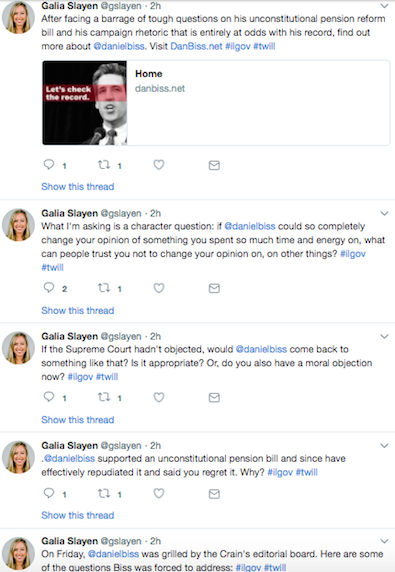 * Meanwhile, the Belleville News-Democrat is hoping for a Biss-Ives matchup…
Illinois politics could be so much more interesting were it to act more like a fantasy sports league, where we pick our players and create our own match-ups.

The clash of the billionaires for Illinois governor is too predictable to be very interesting, and who really trusts the political machines that handed us the current system. How much more interesting the race would be between the folks positioning themselves farther right and farther left of the party heirs apparent.

In this corner, Republican state Rep. Jeanne Ives. And in the opposing corner, state Sen. Daniel Biss.

Now that would be a clash of ideals.
* Biss at DePaul: "I tell people that Bruce Rauner has been a horrible governor for the state of Illinois, but one of the best governors the University of Wisconsin has ever had," Biss said.
* Biss calls for education reform, criticizes Rauner at campus discussion: Following the discussion, much of the audience stayed to make phone calls for Biss' campaign. Allie McRaith, a field organizer for the campaign, said she believes the enthusiasm and excitement Biss has been building among volunteers will help him as the primary campaign enters the stretch run.
24 Comments







































































Sorry, comments for this post are now closed.