* Rep. Jeanne Ives at the City Club of Chicago…
What the commercial that is generating the expected hysteria from the expected quarters attempted to do — admittedly, provocatively — was to properly and truthfully characterize the extreme issue positions Rauner took and their implications. The commercial does not attack people. It tackles issues by truthfully illustrating the constituencies Rauner has chosen to serve to the exclusion of others.
* Rep. David McSweeney endorsed his fellow Republican state Rep. Ives for governor back in January. He is a solid Ives supporter, but he now wants her to take down her new TV ad…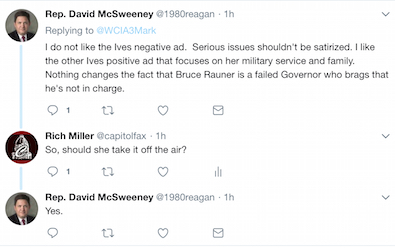 25 Comments










































































Sorry, comments for this post are now closed.