* From the Blagojevich wiretap…
"(White)'s totally, he's totally, you know, uh, he's Senate material in a way that Emil Jones isn't, if I may say," Pritzker says, referring to former Illinois Senate President Emil Jones Jr., a Blagojevich ally who is now serving as a Kennedy surrogate in the 2018 governor's contest.

"OK," Blagojevich says.

"I mean, you know. He's just, I don't know how to say it exactly, but Emil's a little more crass," Pritzker continues.
* The Sun-Times has Sen. Jones' reaction…
"He's been running around the black community talking about all the things he's gonna do. Blah, blah, blah. … He's trying to buy the black vote. He's like a one-eyed jack. But, those tapes show you the other side of his face. This is what he really thinks about black folks," said Jones, who has endorsed Chris Kennedy for governor.

"What he meant by 'crass' is that I'm an uppity black. I fight for my people and, sometimes, that ruffles feathers. What he was saying in comparing me to Jesse White is that Jesse White is a safe black. Jesse White is not gonna do what Emil Jones does. Dr. King was a crass black. Harold Washington was a crass black. It was said in a derogatory manner." […]

"Look at the other side of his face. The other side of his face is that he does not accept strong black leadership. He likes acceptable blacks who are meek and won't say anything," Jones said.

Jones was not impressed when told that Secretary of State Jesse White, City Treasurer Kurt Summers and Aldermen Pat Dowell (3rd), Michael Scott Jr. (24th) and Walter Burnett (27th) all stood with Pritzker on Tuesday as the candidate offered his public apology.

"I expect that from them. They are all safe blacks. A safe black is not gonna challenge or do anything," Jones said.
Oof…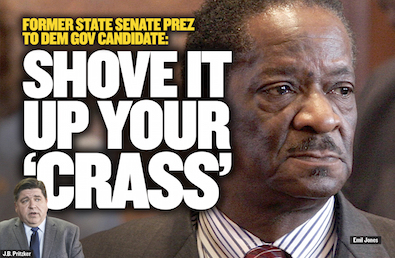 The Tribune has video.
* ABC 7…
"This is a slap in our face, taking our community for granted, playing our community against each other, this is not the kind of leadership we need at this time," said 9th Ward Alderman Anthony Beale.

Pritzker had recently been invited to speak at Sweet Holy Spirit Church, but Bishop Larry Trotter has now dis-invited him.

"For Pritzker to refer to (Emil Jones) as 'crass' is a slap in the face to every African American in Illinois. Just to think we are six days into Black History Month and a candidate for governor thinks it's funny to join in on such derogatory discussions about our leaders," Trotter said.
* Meanwhile…
Campaign fallout. @JBPritzker campaign worker resigns in the wake of latest FBI recordings of Pritzker and Blagojevich. @ABC7Chicago pic.twitter.com/L8LppRGIX5

— Craig Wall ABC 7 (@craigrwall) February 7, 2018
Pritzker campaign spokeswoman Galia Slayen told me: "We certainly respect Kina's feelings on this matter and are sad to see her go from the campaign. She was a field organizer."

— Craig Wall ABC 7 (@craigrwall) February 7, 2018
…Adding… I changed the headline and deleted a tweet because of this…
Organizer who said Pritzker rally who posted on FB postponed, has deleted that post, Pritzker team said "postponement had nothing to do with today" and asks me to take down original tweet, "miscommunication with the venue" #ILGov @JBPritzker (I'd rather hear from the organizer)

— Mary Ann Ahern (@MaryAnnAhernNBC) February 7, 2018
* Related…
* Pritzker Apologizes For 'Regrettable' Remarks On Black Politicians In Call With Blagojevich: "He insulted my whole community," Jones said, pounding on a lectern at a South Side church.
86 Comments

































































































































































































































































Sorry, comments for this post are now closed.