* Pritzker's latest 15-second TV ad on Daniel Biss…
* Script…
Dan Biss says he's a proven progressive. But he's taken money from big banks. And Biss voted with Republicans in Springfield and voted to let the state garnish wages when people fall behind on student loans.

Dan Biss, take a look for yourself.
* Bill synopsis…
Amends the Higher Education Student Assistance Act. Authorizes the Illinois Student Assistance Commission to deduct from the salary, wages, commissions, and bonuses of any employee in this State and, as otherwise permitted, any employee outside the State of Illinois by serving a notice of administrative wage garnishment on an employer for the recovery of a student loan debt owned or serviced by the Commission. Provides that levy must not be made until the Commission has caused a demand to be made on the employee such that the employee is provided an opportunity to contest the existence or amount of the student loan obligation. Effective immediately.
I pulled up the roll call and all but two House members who voted against that bill were Democrats.
* Biss campaign's response…
In a desperate attempt to change the subject away from his racially offensive discussions about African-American elected officials with disgraced former Governor Rod Blagojevich, JB Pritzker is once again attacking Daniel Biss. The new attack ad comes on the same day polling shows Biss is the stronger candidate to beat Governor Bruce Rauner in the general election.

"Pritzker's panic continues," said Abby Witt, campaign manager for the Biss campaign. "In JB's latest sloppy attack ad, the billionaire venture capitalist claims to be better on reducing student debt and college costs than the middle-class father whose family recently finished paying off student loans and who passed the Student Loan Bill of Rights into law this year.

"It's clear JB will say anything to deflect attention from the constant drumbeat of negative stories about him. JB can reinvent Daniel's record all he wants, but voters know Daniel is a proven progressive who'll fight for working families. The same can't be said for JB Pritzker, whose record remains as elusive as his tax returns."
OK, except notice the Biss folks didn't address the substance of the ad.
*** UPDATE *** From a Twitter convo…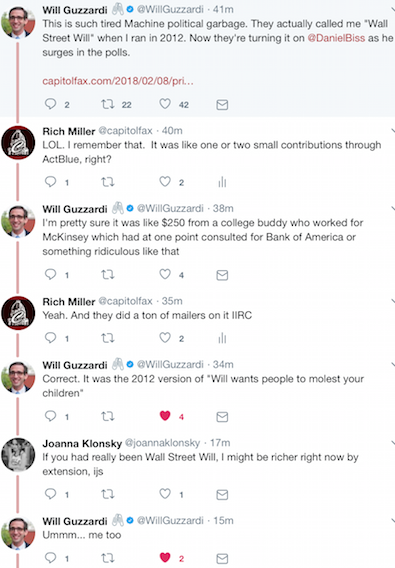 41 Comments


























































































































Sorry, comments for this post are now closed.