* Sun-Times…
Asked by the Chicago Sun-Times Editorial Board to explain what he'd done wrong in his relationship with victim rights advocate Denise Rotheimer, [Sen. Ira Silverstein] said: "Inappropriate, maybe some stupid banter."

Inappropriate in what way, he was asked.

"Maybe some joking around that people might take the other way," Silverstein said. […]

When pressed, however, he also made it clear he still does not share [legislative inspector general Julie Porter's] view of his "unbecoming" conduct.

He said he "did not go over every paragraph" of the inspector general's report and doesn't know what Porter meant about maintaining an appropriate professional distance.
He didn't read the whole report?
* Press release from Democratic primary rival Ram Villivalam…
Springfield has been a mess and Senator Ira Silverstein is part of the problem. Voters are tired of business as usual. The fact that Senator Ira Silverstein couldn't be bothered to read the full report about his own involvement in a sexual harassment allegation is appalling but not surprising. And it's no wonder he didn't want to read it. The IG report found he violated the Ethics Act, and described his conduct as a Senator as unbecoming.

After 20 years in Springfield, Senator Ira Silverstein has failed our district. And if he can't see he's part of the problem, I'm confident voters will choose effective, ethical, and truly progressive leadership on March 20th.
*** UPDATE 2 *** Another Democratic opponent responds, Caroline McAteer-Fournier…
It is unacceptable that someone who has been a legislator for nearly two decades doesn't read an Inspector General's report on his own conduct. I don't find this to be a 'joking' matter. If an investigation finds that one needs ethics counseling the very least that person can do is read the report written by the investigator.

If Senator Silverstein can't make time for this, I question what else he is not making time for. It's time for a new independent voice in Springfield.
[ *** End Of Update *** ]
* Meanwhile…
Advocates and domestic violence survivors to ask @DanielBiss to return Blair Hull's $25K saying he has a history of domestic violence (Hull lost to Obama 2004 Senate primary) will hold press conf outside Biss office Tuesday

— Mary Ann Ahern (@MaryAnnAhernNBC) February 13, 2018
*** UPDATE *** Video of the event is here.
[ *** End Of Update *** ]
* Also, this is from last week…
Police Chief Jerry Mitchell abruptly stepped down from his post Friday in the wake of a City Hall investigation into complaints of inappropriate behavior involving a female subordinate.
* Today…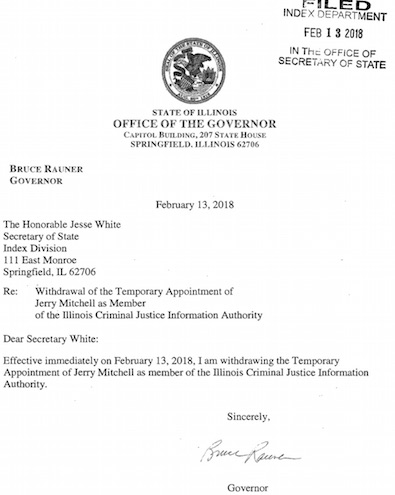 16 Comments















































Sorry, comments for this post are now closed.