* The latest Chicago Reader cover…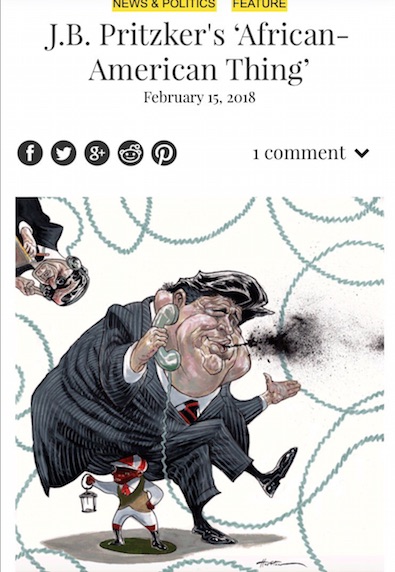 * 6th Ward Ald. Roderick Sawyer, the chairman of the city council's Black Caucus, spoke at the City Club today and talked with reporters afterward…
The chairman of the City Council's Black Caucus @RoderickTSawyer accuses the @Chicago_Reader of "race-baiting" with it's latest cover, the first under new editor Mark Konkol @Konkolskorner Sawyer is calling for an apology and says cover was "offensive" @ABC7Chicago pic.twitter.com/Groz6VO2dH

— Craig Wall ABC 7 (@craigrwall) February 15, 2018
* Transcript…
Craig Wall: The Reader cover. Is this helpful in the conversation, does this hurt in the conversation?

Ald. Sawyer: It's hurtful. I just happened to see the cover right before I started my speech, and that's the equivalent of putting gasoline on a fire. Someone's doing that intentionally to stir up race when we should be talking about disinvestment on the South and West Side. We should be talking about… employment opportunity. We should be talking about educational opportunities. Instead, we're talking about something that happened nine years ago. I get it. It was wrong. The man apologized. Let's move forward and talk about what's important for Illinois, what's important for the City of Chicago and not continue to race bait. That's all the Reader did and I think they should apologize for doing that. That cover was offensive. That cover was offensive to whoever looks at it, you know whether… It's offensive to JB I would imagine. I think that they're race baiting. I think better of them than that.
* Full video…
* The (white) illustrator explains…
"There was a time in America when certain things were socially acceptable without any thought to how dehumanizing they were to someone else. The image of the lawn jockey symbolizes the wink-and-a-nudge ignorance that puts racism into context historically and in this contemporary situation. As a Democrat, Pritzker indeed needs the black vote, and he puts all his weight on it in a most disrespectful manner."
Not sure I get what he's saying there.
* The magazine also published a column by Neil Steinberg about Pritzker…
To make it worse, Pritzker responded by apologizing to everyone in sight. Which, to be honest, doesn't make him seem very gubernatorial. He might have said instead, "Why should an American citizen not accused of any crime, like me, be confronted with his mildly judgmental small talk a decade later?"
Yeah, smugness always works. Right.
* The Reader's new editor interviewed Pritzker and asked him: "What are you doing to change? Will you seek counseling?"
* The mag also published another piece by Adeshina Emmanuel. The first one, entitled "Pritzker the sneak disser might as well have said the N-word," is here. And this is the part of the new one…
That's why I called out the African-American elected officials who accepted Pritzker's apology and still back him in the Democratic gubernatorial primary. To me, a black millennial, their seeming willingness to consider the way Pritzker spoke about race issues as displaying an acceptable level of racism is part of the problem too.

They stood behind Pritzker and offered forgiveness that suggests to a lot of people-white people, that is-that they too should get a pass for sneaky racism so long as they don't speak in vicious racial slurs. There are a lot of people-African-Americans and people of color across this city-who don't forgive him. Some fear electing Pritzker is trading one racially insensitive billionaire governor for another. If you haven't heard from those people, it's because their opinions don't matter much to the Democratic machine or the mainstream media.

That said, Pritzker's political apologists deserve a chance to explain why they think African-Americans should see Pritzker as a friend to their communities. […]

The black politicians supporting Pritzker that did talk to me all shared a common message: We should judge Pritzker's history and entire person, not words from a decade-old private conversation. They touted him as the Democrats' best chance to beat Governor Bruce Rauner. They said that Pritzker wouldn't abandon them once the polls close, and would stay engaged through his tenure with economic development, income inequality, crime, and other issues plaguing many African-American neighborhoods. […]

But Pritzker being sensitive to what words he says doesn't mean we know what he really thinks about African-Americans. Then again, the same goes for any politician. However, the difference is most politicians don't have wiretaps released with their problematic language just weeks before a closely contested primary as they make a hard push to court black voters.
Discuss.
…Adding… Statement from Cook County Board President Toni Preckwinkle, 6th Ward Alderman and Chicago Aldermanic Black Caucus Chairman Roderick Sawyer and Chicago City Treasurer Kurt Summers…
"The Chicago Reader says its cover art featuring the image of a lawn jockey is a 'wink and a nudge' that provides historical context for racism. A 'wink' infers subtlety. This cartoon is not subtle and cannot do the work of contextualizing racism because it is in itself racist. At a time when we are having a debate as a state and as a nation about who we are and how insidious racism infects our politics, this image does not advance the thoughtful debate we need and is therefore disappointing."
…Adding… More from the Reader…
Democratic governor candidate J.B. Pritzker was not exactly excited to pick up this week's Reader and see himself in exaggerated caricature form sitting on top of a lawn jockey. Nope. He characterized the cover illustration by artist Greg Houston as "not the right approach."

"Well, I guess I knew they intended to be provocative at the Reader, but I think this is not the right approach," he said while addressing a seniors' luncheon hosted by Captain's Hard Time Dining & Josephine's Cooking soul food restaurant on 79th Street. […]

Reader executive editor Mark Konkol responded in a statement: "Today's Reader included a variety of opinions about J.B. Pritzker's wiretapped interaction with former governor Rod Blagojevich, including the candidate's own statements in his defense. Alderman Sawyer is entitled to his opinion. We stand by our decision to engage readers on important issues of the day by producing journalism and social commentary that gets people talking."
Ah, the Jeanne Ives approach.
…Adding… He has a point…
Never thought I'd see the Reader attempt to out IPI IPI. https://t.co/hpA7z4teAb

— Christian Mitchell (@cljmitchell) February 15, 2018
34 Comments





































































































Sorry, comments for this post are now closed.