[Reader comments are now open on this post.]
*** UPDATE *** From Speaker Madigan…
"Last week I was advised of inappropriate behavior by a volunteer toward a candidate and staff during the 2016 election. I quickly made sure the individual had no participation in any activities my committees are involved in. I offered to refer the matter to outside counsel and that offer was declined. The complainant and I met with the individual and the complainant assured me that the situation had been appropriately resolved. The individual will no longer be involved with any activities of my political committees. I reaffirm my commitment to change the culture. I do not tolerate inappropriate behavior or abuse of any kind and remain committed to ensuring all individuals can do their work without fear of harassment, abuse, or retaliation."
[ *** End Of Update *** ]
* You may have seen this bubbling up on Twitter today…
NEW: Hearing an additional well known, high ranking operative to Speaker Madigan has been quietly removed from organization for alleged complaints, Speaker's spox will only say "he has no current assignment" #twill

— Mary Ann Ahern (@MaryAnnAhernNBC) February 19, 2018
#Madigan. Shaw Decremer former field lieutenant to Speaker & successful lobbyist "has no current campaign assignments." Dem lawmakers say that is unusual in primary season. May be a firing.

— Edward Marshall (@edmarshallcbs2) February 19, 2018
Join us at 5p @nbcchicago, latest on new Dem operative quietly removed from campaigns after allegations of inappropriate behavior, and #ILGov Dem candidates react, louder criticism for Madigan, with the exception of @JBPritzker #twill

— Mary Ann Ahern (@MaryAnnAhernNBC) February 19, 2018
Pritzker needs to do so much better on this stuff.
* Anyway, I'm told that Decremer was abruptly removed from four House Democratic campaigns after complaints were made late last week by four campaign workers, who haven't yet come forward. The allegations at least partly involved Rep. Deb Conroy's 2016 campaign. I asked Rep. Conroy for comment (including whether she'd also been harassed) and she sent me this image via text…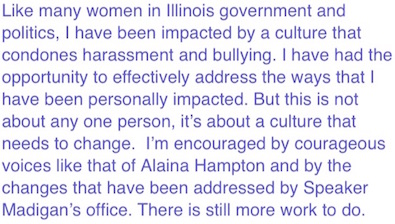 …Adding… Mary Ann Ahern's story is here.
* From the Biss campaign…
Today, Daniel Biss and Litesa Wallace released the following joint statement in response to the continued sexual harassment allegations within Mike Madigan's political operations:

"Time's up for Mike Madigan and the political machine he controls. After Alaina Hampton bravely came forward, Madigan had an opportunity to lead, and chose to make more backroom deals. These actions demonstrate he cannot and should not lead our party, and also cause us to seriously question his role as Speaker of the House.

"In the best interest of justice and truth, and to protect the women who have bravely come forward, Madigan should immediately resign from his position as Chairman of the Democratic Party of Illinois. And to ensure a truly independent investigation, we call on the Office of the Inspector General to conduct a swift and thorough investigation into these allegations."
I'm not sure how the state's Legislative Inspector General can investigate campaign behavior.
…Adding… From tonight's forum…
When asked if Speaker Madigan has done enough to address sexual harassment in the IL Democratic Party, JB Pritzker doesn't say Madigan's name but says "more needs to be done, there needs to be an independent investigation to look into allegations" pic.twitter.com/aWbswP4F8o

— Paris Schutz (@paschutz) February 19, 2018
…Adding… I think this is correct…
Three key questions that will dominate Illinois politics in the days to come. What did the Speaker know? When did he know it? What did he do about it?

— Dave Lundy (@DaveChgo) February 19, 2018
…Adding… Tribune…
For the second time in a week, Illinois House Speaker Michael Madigan has parted ways with a top lieutenant in his Democratic political organization, this time citing "inappropriate behavior by a volunteer toward a candidate and staff" during a 2016 campaign.

While Madigan's statement did not name the operative, sources familiar with the circumstances confirmed that it is Shaw Decremer. Democratic state Rep. Deb Conroy and several other staffers approached Madigan within the last week with complaints about Decremer's behavior, one of the sources said.

Reached late Monday, Conroy declined to detail the behavior, saying she is focused on moving forward.

"In this case, it was an abuse of power. That's all there is to it. It's not sexual harassment per se. I guess it's harassment, but I feel like it's been handled from my perspective," said Conroy, a three-term lawmaker from Villa Park. "We change the culture by calling out the bullies, by saying this behavior is not acceptable, and it needs to change."


Click here to help buy presents for LSSI foster kids!
80 Comments















































































































































































































































Sorry, comments for this post are now closed.