* Press release…
Marko Sukovic, a Republican running to replace outgoing Rep. Carol Sente, filed a lawsuit yesterday seeking injunctive and other relief in response to certain defamatory statements made in a series of mailers the [House Republican Organization] sent to Republican primary voters on behalf of Sukovic's primary opponent Karen Feldman.

"The content of these mailers is absolutely ridiculous, and to see that her campaign spent over $12,000 on them is concerning," Sukovic said.

"If her campaign is willing to waste that kind of money on these mailers, imagine the kind of money she'd be willing to waste in Springfield."

"The voters of the 59th district have a choice to make, to continue with the tax, spend, and waste policies of a candidate that has voted in two democratic primaries, or a fresh alternative willing to take on the status quo."

"Given her refusal to denounce these tactics, we felt we had no choice but to seek legal recourse."

Sukovic's comments come after Feldman's campaign reported receiving over $32,000 in contributions from HRO, over $12k of which appears to have been allocated to these mailers.

The complaint was filed with the 19th Judicial Circuit Court in Lake County, and can be viewed by visiting Lake County Public Access website. (Case # 18CH198)

Marko Sukovic is a Republican candidate for state representative in Illinois' 59th district. Sukovic is a resident of Lincolnshire and the former political director for Republican Congressman Bob Dold. He is a fiscal conservative and social moderate, focused on political and economic reforms that will help end the exodus from Illinois.
* His lawsuit is here. And here's the section that describes the mailers…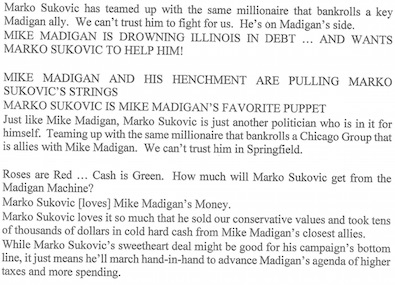 Sorry, no comments on this one because I'm about to shut down the blog for the weekend.
No Comments
Be the first to comment.
Sorry, comments for this post are now closed.