* More Paul Simon Public Policy Institute poll results. Remember, these are registered voters, not likely voters, which may be why they're not matching up with some of the tracking poll results I've seen…
In the most recent statewide version of the Simon Poll, Republican Gov. Bruce Rauner leads challenger Jeanne Ives, a state representative from Wheaton, in the Republican Primary, by 20 points, 51 percent to 31 percent. Businessman JB Pritzker leads State Sen. Daniel Biss in the crowded Democratic primary by 10 points, 31 percent to 21 percent. Former University of Illinois Board of Trustees Chairman Chris Kennedy trails in third place, at 17 percent. […]

In hypothetical general election matchups, asked of the full sample, Gov. Rauner trails both leading Democratic candidates by similar margins: Pritzker leads the governor 50 percent to 35 percent, while Biss leads Rauner 48 percent to 34 percent.

"It's interesting that Pritzker's and Biss's margins over Rauner are essentially the same in The Simon Poll," said Charlie Leonard, an Institute visiting professor involved in the polling. "One explanation may be that in the minds of voters—who may know little about either Biss or Pritzker—the decision may come down to 'Rauner versus not-Rauner.' If the election were held today, I'd rather be 'not-Rauner.'"

Both Pritzker and Biss lead the governor by wide margins in the City of Chicago and the Chicago suburbs (see Table 9), while downstate, Rauner leads Pritzer by three points and leads Biss by eight points—keeping in mind the smaller sample sizes and wider margins for error in the geographic subgroups.

"It is three weeks to go until the March 20th Primary and major events could still move these numbers," said John S. Jackson, another designer of this poll. "However, for all the money and attention these two races have garnered, the results so far fairly faithfully reflect the bedrock strength of these two parties in the state of Illinois, and this advantages the Democrats."
Those are not good Democratic primary numbers for Pritzker, to say the least. And Ives at 31 means she'd better get a big check soon. Rauner's general election Downstate lead over Pritzker is very small, considering the recent trends in this state.
* Regional breakdowns…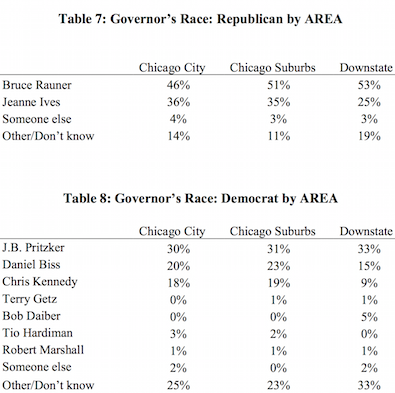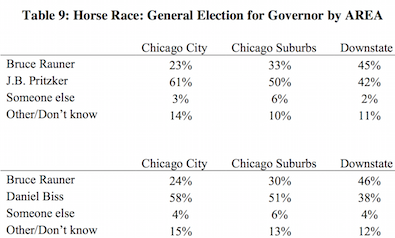 * More…
In the poll of 1,001 registered voters across Illinois, conducted February 19 through 25, the margin for error is plus or minus 3 percentage points. It is important to remember that among self-identified primary election voters, the margin is significantly wider: plus or minus 6 percentage points in the 259-voter sample of Republicans, and 4.5 percentage points in the sample of 472 Democrats.
That's a pretty small GOP sample.
128 Comments































































































































































































































































































































































































Sorry, comments for this post are now closed.