…Adding… If you couldn't access the video link because you don't subscriber to BlueRoomStream.com (you really should subscribe), then click here for raw audio.
* Gov. Rauner was asked today about the Erika Harold controversy. You'll recall that three sources told Mary Ann Ahern that Harold said this during a Miss Illinois pageant interview…
One of the questions to Harold that year was: If she, like her mother, was responsible to place a child in foster care and had to choose between a.) A loving gay couple or b.) A heterosexual couple who were known child abusers, which would she chose?

All three sources told NBC 5 she chose the child abusers.
* Rauner today…
I've known Erika Harold for about five years. I've found her to be a person of great talent and integrity and good will. And I can't comment beyond that.
* The governor, who made it clear that he fully supports gay adoption, was then asked if Harold should drop out of the attorney general's race…
I've told you about my view of Erika Harold. I think she's an outstanding person of great talent and integrity and good will.
* He was also asked if this NBC 5 report disqualifies her..
I think rumor, or political hit jobs or whatever. I don't know the background of that circumstance. I can't really comment.
* Meanwhile, from Rep. Kelly Cassidy (D-Chicago)…
Since the news of @ErikaHarold statement that an abusive home would be better 4 kids than a home w/2 same sex parents broke last night, I've spent a lot of time thinking about what those words mean to me, both as a gay parent & as an advocate for LGBTQ youth…

— Rep. Kelly Cassidy (@RepKellyCassidy) March 9, 2018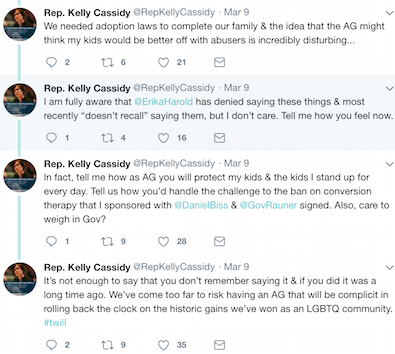 53 Comments






























































































































































Sorry, comments for this post are now closed.