* From one of Dan Proft's papers…
Gov. Bruce Rauner's own local Republican organization will not endorse him for re-election.

The New Trier Township Republican Organization (NTRO) includes Rauner's north suburban hometown of Winnetka as well as Wilmette, Glencoe and Kenilworth. It officially declined to endorse after voting during a meeting on Saturday morning, just blocks from Rauner's home.

"It is extraordinarily rare for a regular Republican organization to fail to endorse an incumbent governor, let alone the incumbent's local organization," said Wilmette resident Jasmine Hauser, who attended the meeting. […]

Blair Garber, Evanston Township Republican Committeeman and a Rauner-appointee to the Illinois Lottery Control Board, spoke in support of Rauner.

He said NTRO should back Rauner because "his money" can help Republicans re-claim control of the Illinois House from Democrats and House Speaker Michael J. Madigan (D-Chicago).
That's a little embarrassing for the governor.
Also, I confirmed yesterday that Blair Garber gave the Rauner pitch. You may recall Mr. Garber. From February 1st…
Illinois Lottery Control Board chairman Blair Garber resigned and apologized after describing East St. Louis, Illinois, as the "sh*thole of the universe" on Twitter.

Garber, an Evanston resident and representative on the Republican State Central Committee, used language reportedly invoked recently by President Donald Trump to describe the city in southwest Illinois.
I asked the Rauner campaign yesterday if Garber was authorized to speak for Rauner. "No," was the response.
* This next one requires a detailed road map, so stay with me. As you know, Denise Rotheimer has appeared in a few TV ads on behalf of Dan Proft's House GOP candidates. But she recently announced on Facebook that she wouldn't be supporting Kenny Idstein, who is supported by Proft's Liberty Principles PAC. Adam Solano, who is running against Idstein, then shared Rotheimer's post, which links to a very positive story in another Dan Proft paper about… Idstein…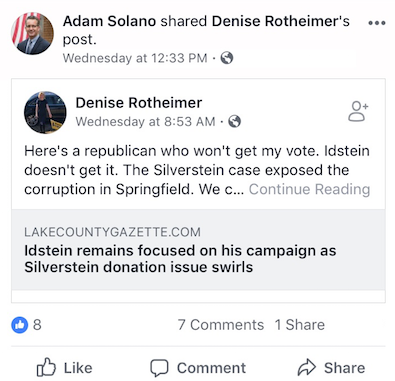 Got all that?
14 Comments









































Sorry, comments for this post are now closed.