* From a commenter earlier today…
Kennedy came off as the alpha male last night, he straight up emasculated Biss.

Pritzker just looked like he did not want to be there and said his rehearsed lines running out the clock (on the debate & the election).
Agreed.
* Tribune…
Pritzker interjected, "These two went on the attack."

The prompted Kennedy to respond: "Lie, lie, lie, lie, lie."

Kennedy also lashed out at Biss, who is seeking support from backers of Vermont Sen. Bernie Sanders' unsuccessful presidential campaign. Biss sponsored 2013 legislation to cut benefits for public pensioners — a law later ruled unconstitutional. Biss has acknowledged the move was a mistake.

But Kennedy said Biss "fell" under Springfield's spell as a state lawmaker in pushing the legislation.

"There's nothing that a Democrat can do that's worse than what you did," said Kennedy, calling Biss' move "disqualifying" for governor.
* AP…
"You do not want a liar as the governor of the state of Illinois," Kennedy said. […]

Kennedy added Biss was "part of a failed system" in Springfield and said it was time to bring change to Illinois.
* WTTW…
Kennedy likened the primary process to interviewing candidates for a job.

"You should never hire someone who lies to you during a job interview," Kennedy said. "If they'll lie to you to get the job, they'll lie to you to keep the job." […]

Biss said that he supports a tax on financial transactions, like the ones that occur on the trading floors of the Chicago Board of Trade and the Mercantile Exchange. But Kennedy said the idea was pie in the sky.

"This is the worst form of political pandering," Kennedy said. "To say that nobody has to worry about a thing because we're going to tax financial transactions, it gives everyone false hope. We ought to bring people into the complexities and subtleties of government policy and not offer a solution that can't be had."
* Patch…
Ponce later asked whether the candidates supported Cook County Assessor Joseph Berrios, whose office has been found to operate a regressive tax system favoring wealthier and well-connected property owners at the expensive of poorer homeowners.

Pritzker took issue with the question before the other candidates had a chance to answer.

"I'm not revealing who I voted for or who I'm supporting in that race because I don't think we should be getting involved in Democratic primaries – we're running one ourselves," he said.

"Oh my Gosh, if you can't take a position on whether Joe Berrios should be reelected…if you can't take the courage to take a position on that race you shouldn't be the governor of the state of Illinois," said Kennedy, who has focused on the property tax appeals system in the campaign. He called Pritzker a "property tax cheat."
* NBC 5…
The debate winner was Chris Kennedy, but with only five days to go, the question is: will it make a difference?
That's the question, alright.
* I took this pic of my TV last night. It's the moment after Sen. Biss said he was proud of his legislative record…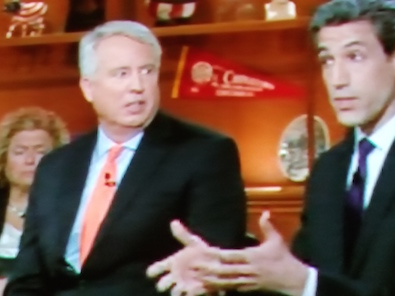 Heh.
* And the Pritzker campaign put together some highlights of Kennedy whacking Biss. It didn't include the Kennedy attacks on Pritzker, of course. But it's still worth a watch…
* Related…
* Chris Kennedy, who's not that into politics, is carrying his family's legacy into governor's race
51 Comments
























































































































































Sorry, comments for this post are now closed.