* The Rauner campaign seems to be setting the bar high in today's Wall St. Journal article…
Ms. Ives released a poll last week that showed her within striking distance of Mr. Rauner, who is down by 7 percentage points. Mr. Rauner's internal polling shows the governor ahead by 12 percentage points but with his popularity among the state's Republicans slipping.
* The Republican Governors Association also appears to be setting the bar high…
"Governor Rauner is in strong shape, he should win easily tomorrow night," Jon Thompson, the Communications Director for the Republican Governors Association (RGA) said
* As you will recall from yesterday, Gov. Rauner compared his current primary battle to Gov. Jim Edgar's 1994 primary, which Edgar wound up winning by 50 points. Illinois Working together has since been gleefully trolling Rauner…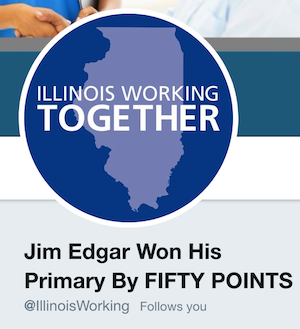 * But with a hat tip to IWT, Rauner said this today on Steve Cochran's WGN Radio show…
We need everybody in the Chicagoland area, your listeners, to know that this election is gonna be closer than anybody thought. This primary is gonna be tough. And Evelyn Sanguinetti and I have to win because we can be victorious. We're the only ones who can be victorious against Pritzker and Madigan.
* And he said this today on Sam Madonia's show…
We need everybody to get out and vote in today's primary. So, your listeners, if you haven't already voted, vote today and take a Republican ballot, please, and on Republican ballot vote for Rauner and Sanguinetti. This primary is gonna be closer than many people originally thought. There's a huge amount at stake here because Rauner and Sanguinetti, we as a team are the only team that can beat a Pritzker and Madigan in the fall in November. We're the only ones that can do it.
Man, he sounded nervous on that show.
…Adding… I forgot about this one…
All of those moves suggest a suddenly nervous candidate. And while strategists in both parties think he'll likely hang on to win on Tuesday, some aren't completely foreclosing the possibility that Ives could pull off a shocker.

"It appears this election is going to be a lot closer than anyone thought it would be — especially the governor," former Rauner adviser Lance Trover told TPM on Monday.
"Especially the governor" is right.
45 Comments






































































































































Sorry, comments for this post are now closed.