* Click the pic for a larger image of these internal legislative dot points…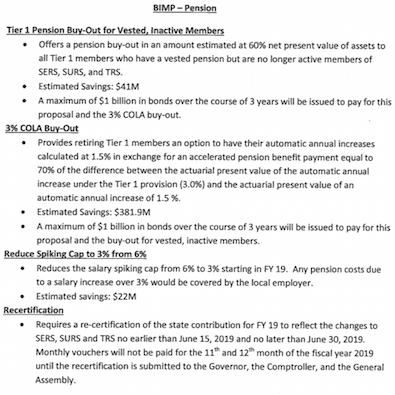 I'm told the savings were calculated by the pension funds' actuaries.
*** UPDATE *** From Rep. Mark Batinick (R-Plainfield)….
There are a lot of misconceptions about the pension buyouts. Let me clarify a few things:

Is the only savings the "haircut" annuitants take to get the lump sum?

No. Depending on the system, we have an expected rate of return of 7-7.25%. Therefore the unfunded portion of the shortfall grows at that amount each year. By bonding to buy people out of the system we are saving interest costs because we can sell bonds at less than 7% right now. The spread between 7-7.25% and whatever we sell the bonds for is additional long term savings.

Will anyone take the buyout?

When I introduced HB4427 in Jan 2016, buyouts had only been done in the private sector. But since then, Missouri passed a bill very simliar to the HB315 I filed last Jan. That bill is for vested inctives. In Missouri there was a 22% take-up rate. That is the take-up rate that is being used.

What is done with the money?

It does need to be rolled into a qualified retirement account. It will not be immediately taxed by the Feds. But, once it is in the account the annuitant can do with it whatever it wants to do.

What about negative-selection?

The reason there is a "time-window" for these buyouts is to limit negative selection. People have to decide quickly. Plus, at a haircut of 30%-40% we would have to have a whole bunch of sick people in the state to have to plan lose money.
55 Comments




































































































































































Sorry, comments for this post are now closed.