* Yours truly will be announcing the game at Busch Stadium when the Illinois side bats…
WHAT: First Annual Bi-State Softball Showdown - Missouri Legislators vs. Illinois Legislators Softball Game at Busch Stadium
WHEN: Thursday, June 14, 2018
TIME: 1:00 p.m. first pitch; broadcast winners and interviews in Media Room at 2:30 p.m.
LOCATION: Busch Stadium, 700 Clark Avenue, St. Louis, MO 63102

Join Missouri and Illinois Legislators for the First Annual Bi-State Softball Showdown Game at Busch Stadium, where legislators from both sides of the river and across party lines will be competing for bragging rights – all in the spirit of bi-state regional cooperation. The bipartisan event is sponsored by the St. Louis Regional Chamber.

Members of the media will have the opportunity to interview team captains Missouri Representative Elijah Haarh (R-District 134), Speaker Pro Tem, and Illinois Senator Bill Cunningham (D-District 18) after the game, as well as St. Louis Regional Chamber President & CEO Tom Chulick and other members of the Missouri and Illinois teams. See the attached Missouri and Illinois rosters for the team members.

The St. Louis Regional Chamber is the region's principal business advocacy organization, championing forward-thinking economic policies in Illinois, Missouri and Washington D.C. The Chamber represents the St. Louis business community in both Missouri and Illinois across 15 counties and the City of St. Louis. The Chamber's First Annual Bi-State Softball Showdown was organized to encourage regional understanding and cooperation among legislators to help St. Louis area economic growth and development.
* The Illinois roster…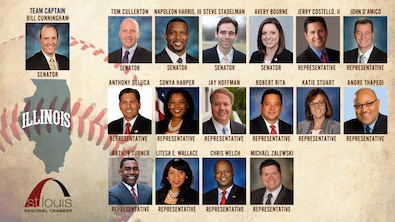 The Missouri roster, if you care, is here.
* They'll be playing with a 12-inch softball instead of the Chicago-style 16-inch, so the other side of the river will definitely have an advantage. Some of the Illinois players will have to buy gloves for the first time.
The idea is to hold another game next year in Chicago with a 16-inch ball, but we'll see if that actually happens.
* And I was just told that we "can't say anything inappropriate" over the stadium's PA system, so I guess quoting the late, great Sen. Adeline Geo-Karis' infamous admonition to players is out of the question.
…Adding… I'm told Rep. Ryan Spain is playing as well, and maybe a few others who are not yet confirmed. And Rep. Avery Bourne is definitely not a Senator.
24 Comments







































































Sorry, comments for this post are now closed.