* Media advisory sent last night…
Attorneys for Alaina Hampton will appear in federal court on her behalf regarding a suit filed against the Democratic Party of Illinois, Friends of Michael J. Madigan, the 13th Ward Democratic Organization and Democratic Majority, the political action committees associated with Madigan's organization. Hampton brings the suit after filing a discrimination complaint with the Equal Employment Opportunity Commission in February 2018. Ms. Hampton will not be present for this court appearance. Attorneys for Hampton will be available for comment.
* Kevin Quinn, the brother of Ald. Marty Quinn who was accused of sexual harassment by Alaina Hampton which ultimately led to Hampton's lawsuit and EEOC complaint, has circulated a document to reporters entitled "The Truth." It's his side of the story, but leads with this…
Acknowledgement of Responsibility & Perspective

It was never my intent to make Ms. Alaina Hampton feel uncomfortable. I take responsibility for sending the text messages she has publicly released between us and apologize for my attempts to get to know her outside of necessary interactions. In February 2017 when my supervisor approached me about my text messages with Alaina Hampton, I was reprimanded and all communications with her immediately stopped. Then during an investigation that was prompted from a letter Alaina sent to Speaker Madigan in November 2017 about the text communications, I was further reprimanded by Counsel Heather Wier Vaught in December 2017. On both occasions when I was reprimanded, I was informed that Alaina Hampton did not want me fired. I believe my February 2018 departure from working on Speaker Madigan's political and state staff was in large a result of a pleading to a January 2018 misdemeanor disorderly conduct charge, which was directly related to my bitter divorce involving a custody battle of two children.
He also claims the media has "strong unconscious personal biases against Speaker Madigan," and says he's only trying to counter the "misinformation that has been reported."
* There's some hearsay and other unverified claims within his narrative, but here is an excerpt…
• I was never Alaina Hampton's supervisor and never had any control over her assignments.

See Appendix A that contains several text communications between Alaina Hampton and I that clearly show that Alderman Marty Quinn was her supervisor

• The 2018 campaign manager for the 5th district state representative ("RD5") race was already determined prior to Alaina Hampton approaching Heather Wier Vaught. Alaina Hampton's allegations that she was retaliated against because she did not obtain a job working on the RD5 race for the 2018 election cycle fails to recognize that the position of campaign manager was filled prior to her conversation.

• Alaina Hampton has quit political campaign roles and government jobs on multiple occasions. Additionally, Alaina has exaggerated the roles she served in for the political committees of Speaker Madigan.

See Appendix B for a timeline of relevant events to the Hampton Investigation. The timeline includes occasions when Aliana Hampton quit various positions as well as how her roles changed over time.

• Alaina Hampton fails to recognize a fundamental principle in politics; she was not welcomed back into any of the Speaker's political organizations after she took a salaried position on the Marie Newman for Congress campaign against 13 Ward Democratic Organization ally, Congressman Dan Lipinski.

• In February 2016, Alaina Hampton told Alderman Marty Quinn that she did not want to communicate with me any further and immediately my communication with her stopped. There has been no contact with her since.

• Alderman Quinn's handling of Alaina Hampton's complaint was swift and is in alignment with the degree of confidentially she sought, the seriousness of the offense and the outcome desired by the complaintant.

• There was never any sort of cover up with respect to the investigation. Alaina Hampton had no knowledge of the misdemeanor disorderly conduct pleading that was associated with my nasty divorce and was part of the broader examination of my employment record conducted by Counsel Heather Wier Vaught.
* There's also this…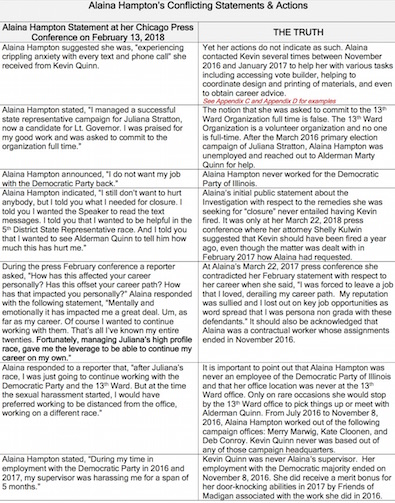 I've asked Hampton's spokesperson for a response.
*** UPDATE 1 *** From Hampton's attorney Shelly Kulwin…
"We have just received this document. We intend to review it with our client. We can say that it reads like a legal brief written by attorneys to make the litigation defendants' case. We anticipate that the full 'truth' will come out once, in addition to Ms. Hampton's texts, we are able to review the defendants' internal communications on this issue as well other relevant discovery we obtain during the case."
Everyone's got a right to an opinion, but this doesn't look like a plot by Madigan's attorneys plot to me. It's just too reckless. They usually don't do reckless. Kevin really messed them up here.
*** UPDATE 2 *** Uh-oh…
However, Hampton's attorney disclosed that there are discussions of a settlement.

"There is a lot at stake here. There is perhaps a lot more at stake than meets the eye in normal litigation," said Shelly Kulwin, Hampton's attorney. "But I'm all for resolving this case and I think my client is, as well. The goal here is not to go on a crusade for the next two years in litigation. The goal here is to get her specific injury addressed and re-dressed."
Now, re-read Kulwin's statement from the first update. If they blame Madigan's lawyers for Quinn's statement, any deal could easily be in jeopardy - if there really is a possibility of that happening. I'm not sure there have been actual settlement talks.
By the way, Kevin Quinn also e-mailed a fuzzy, low-resolution headshot that WBEZ used in its story. Amateur hour.
*** UPDATE 3 *** Rep. Kelly Cassidy…
Gimme a break. This is the oldest trick in the book. Just another offensive tactic from the old playbook that aims to discredit and undermine women who come forward. Women considering speaking out should not let Mr. Quinn's despicable behavior deter them.
*** UPDATE 4 *** Expected…
A spokesman for House Speaker Michael Madigan said no one in Madigan's political or governmental office was involved in preparing Quinn's memo. https://t.co/DKh6WVoPfd

— WBEZ (@WBEZ) June 13, 2018
45 Comments






































































































































Sorry, comments for this post are now closed.