* Before Rod Blagojevich was elected governor in 2002, Illinois had an unwritten rule that higher education received $1 for every $2 received by K-12. Blagojevich believed universities were too top-heavy, so he cut their budgets year after year. That trend continued through two successive governors. From the Illinois Board of Higher Education…
2002 was the peak year for state appropriation support for Illinois public universities ($1.5 billion). When accounting for inflation and new, unfunded mandates public university operations funding for Fiscal Year 2018 is less than half of what it was in Fiscal Year 2002 ($736 million in 2018 relative to $1.5 billion in 2002). [Emphasis added.]
Yikes. Let that sink in for a moment. Less than half.
* They now turn to a more recent timeline…
In Fiscal Year 2017 general funds covered just 37.8% of public university revenue, with UIF covering the remaining 62.2%. In comparing 2010 and 2017, total revenue is nearly identical in both years (difference of +0.1%) after making an inflationary adjustment using the consumer price index (CPI). The decline in state appropriations to public universities from 2010 to 2017 (-22.8%) roughly parallels the increase in university income funds (+22.2%)
The accompanying graph…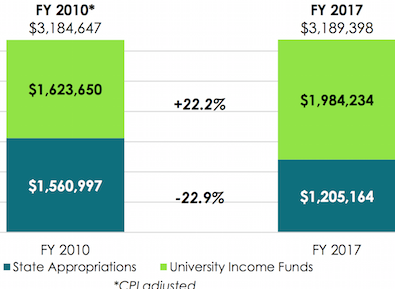 * So, adjusted for CPI, overall higher education spending has leveled off, but state funding has plummeted. They gotta pick up the slack somewhere else.
And, according to IBHE, if you adjust for the Higher Education Price Index, total higher education spending has lagged by 4.5 percent, meaning the universities are doing their part to control costs while the state slashes its own funding.
18 Comments





















































Sorry, comments for this post are now closed.