* From the Illinois Policy Institute…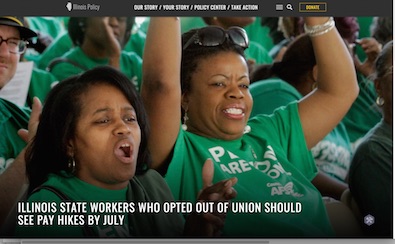 * According to AFSCME, the woman on the left is Darneice Cooper, a casework manager with the Illinois Department of Human Services and the president of AFSCME Local 2806…
"People e-mailed me and said, 'You know your picture is on the web site of the Illinois Policy Institute,'" Cooper relates. "I'm like, 'What? You've got to be kidding me.' So I went on there and sure enough my picture was right there [next to a headline encouraging state workers to quit the union]. Like I'm supporting that caption that they have under my name! I was appalled. I was very upset."
* Cooper sent the Illinois Policy Institute a letter…
To whom it may concern:

I was shocked and dismayed to discover recently that you are using my photo on your website as part of your effort to get employees to drop out of our union. This is a really a form of identity theft—using my image to promote something that is completely wrong in my eyes.

I am a proud AFSCME member, I support my union, and I will never quit standing with my fellow workers.

I was outraged by the Supreme Court's decision in the Janus case. Five conservative justices sided with the billionaires and corporate special interests who funded this case – and who fund your organization. They ruled against not just those of us who work in public service, but those we serve every day.

I help make sure some of Illinois's most vulnerable seniors get the care they deserve. I don't do what I do to get rich, like our billionaire governor or your corporate donors.

Like my coworkers, I'm in public service because I care about my community. Being in a union gives us a voice and allows us to fight for the resources we need to serve the people of Illinois.

Please remove my photo from your website immediately.
The photo is still there as I write this.
Cooper also appeared in a video. Click here.
I've asked the Illinois Policy Institute for comment.
*** UPDATE *** Illinois Policy Institute response…
Rich:

This photo is licensed through the Associated Press and has been available since May 23, 2012. It was a photo taken by an AP photographer at a public political rally at the Illinois State Capitol. Any concerns about the photograph should be directed to the Associated Press.
…Adding… Heh…
.@illinoispolicy: people shouldn't be forced to support a political agenda

also @illinoispolicy: people can't stop us from using their photo to support our political agenda

got it, cool cool#twillhttps://t.co/ZTgPM6xZUE

— Illinois Working Together (@IllinoisWorking) July 10, 2018
* Related…
* It's time to opt in - After the Supreme Court ruling, a message to my fellow former fair-sharers: Two very nice union representatives knocked on my door last week. Anticipating an unfavorable ruling in Janus v. AFSCME, they asked me, a "fair share" state employee, to join the union. I didn't have to think twice. Sign me up, I told them. I'm with you.
25 Comments










































































Sorry, comments for this post are now closed.